Written by Dr Frank Pyke (VIS ED 1990 – 2006) for VIS Pinnacle Newsletter in 1996.

Our Second Olympics
Victorian's and the Victorian Institute of Sport (VIS) have made an outstanding contribution to Australia's best ever Olympic Games result. Victorians, representing 31% of the national team, contributed to 44% (18 from 41) of the medals won by Australians in Atlanta. Fifteen of these medals were won by athletes from the VIS in seven different sports (cycling, hockey, rowing, shooting, softball, swimming and track & field).
Of the 132 Victorians who represented Australia in Atlanta, 26 won medals (19.7%) whilst the success rate of VIS athlete was even higher with 23 of the 78 scholarship holders at the Olympic Games winning medals (29.5%).
VIS athletes contributed to three of Australia's nine gold medals.
In rowing, the Men's coxless Four of James Tomkins, Mike McKay, Nicholas Green and Drew Ginn, coached by VIS Head Rowing Coach Noel Donaldson, won back to back gold, having also been successful in Barcelona.
The 'Oarsome Foursome' showed the media that you never write off champions. The 'Not So Awesome' tags of a year ago were very harsh at the time and very inappropriate in Atlanta. Champions find a way to succeed. - Dr Frank Pyke
Image: The Media surround the Oarsome Foursome after they win back-to-back Olympic Gold Medals.
VIS shooter Russell Mark won a gold medal in the double trap event whilst the VIS also supplied two members of the successful Australia women's hockey team, Louise Dobson and Danni Roche.
Other great performance by VIS athletes included Daniel Kowalski at just 21 years of age, becoming the first swimmer since 1904 to win medals in the 200 metres (bronze), 400 meters (bronze) and 1500 metres (silver) freestyle events. Athlete Catherine Freeman recording a brilliant personal best to finish second in the 400 metres; cyclist Michelle Ferris (assoc.) taking a silver medal in the sprint event and swimmer Nicole Stevenson winning silver and bronze medals at her final Olympic Games.
As well, VIS Head Sprint Canoeing Coach Agenta Andersson won gold in the K2 500m and bronze in the K4 500m representing her native country of Sweden whilst Australia's weightlifting bronze medallist Stefan Botev is a member of a program which receive some support from the VIS.
VIS' Paralympic Games' Success
Victorians and the Victorian Institute of Sport have made a significant contribution to Australia's best every Paralympic Games result. Australia won an incredible 106 medals (42 gold, 37 silver and 27 bronze) to finish second on the overall medal tally behind host nation the United States.
The 17 VIS athletes who represented Australia at the 1996 Paralympic Games in Atlanta contributed to nine medals (four gold, four silver and one bronze) with Victorian athletes winning 11.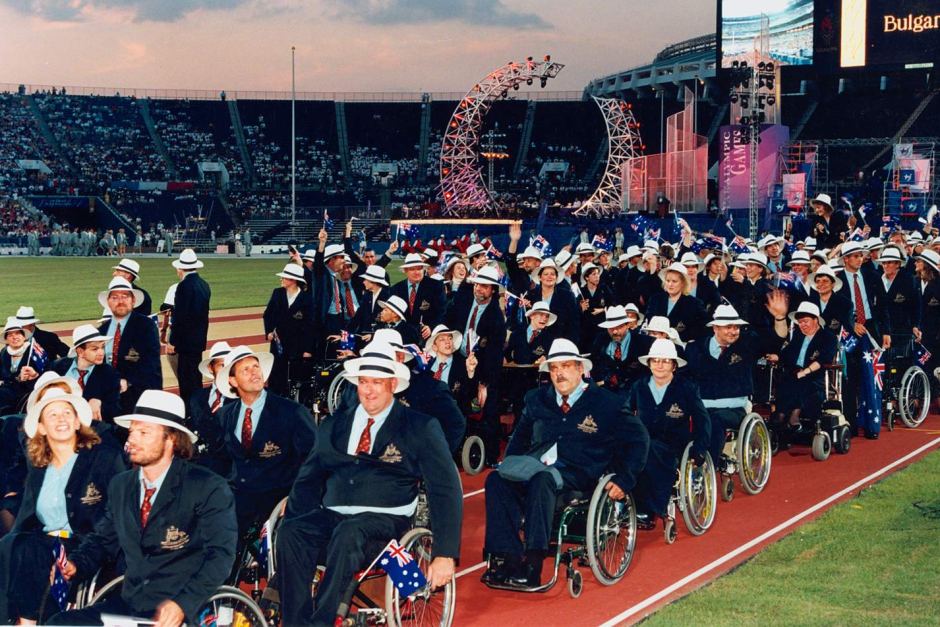 Wheelchair races John Lindsay performed brilliantly to win gold in the 100 metres sprint, silver in the 200 metres and bronze in the 400 metres. He was coached by Kathryn Lee, coordinator of the VIS' Track and Field Program and Head Coach of Australia's Paralympic Track and Field Team.
Other VIS athletes who won gold medals were Lachlan Jones (wheelchair-cerebral palsy) in the 100 metres; Tim Matthews (amputee) who was a member of the Australia's successful 4 x 100 metres relay team and cyclist Peter Homann (cerebral palsy) in the 20km road race.
As well as Lindsay, VIS athletes who won silver medals were Homann in the 5,000m Time Trial; cycling teammate Paul Lake (amputee) in the Omnium; Jodi Willis-Roberts (Vision Impaired) in the shot put and weightlifter Brian McNicholl (polio) in the 90kg class.
Looking Forward.
Sydney is only four years away and there will be huge expectations among the public for our athletes to succeed on home soil.
Nearly one third of the VIS athletes who participated in the Games actually won medals; an outstanding strike rate by any standard. But there is still enormous amount to be done, particularly in a major sporting state such as Victoria, upon whose athletes Australia relies for much of its international success.
Time has a habit of moving quickly in sport and Sydney will be upon us before we realise it.
Stay up to date with our 'Remembering VIS at the Games' campaign here
---
Written by Dr Frank Pyke (VIS ED 1990 – 2006) for VIS Pinnacle Newsletter in 1996
Dr Frank Pyke was the inaugural Executive Director of the Victorian Institute of Sport (VIS) in 1990, a position which he held until 2006. During his tenure at the VIS he developed a number of programs and was respected by so many athletes and staff. In 2011 Pyke passed away several months after he was diagnosed with motor neurone disease.
In his honour, we now present the 'Frank Pyke Achievement Award' at our annual Award of Excellence evening, presented to an athlete who had a successful sporting career as well as making a significant contribution to the VIS and their sport, and most importantly been successful in their career path. The Award reflects the VIS motto, 'Success in Sport and Life' over the span of the athlete's career.