Image: Australian gold in rowing as the women's four claim thrilling win at Tokyo Olympics. Credit: Getty Images / Australian Olympic Team
From Australia storming home for a stunning victory in the women's four to the men's team pursuit guys defying all odds to bounce back after a crash on the opening night and win bronze, the Tokyo 2020 Olympic Games will be remembered forever. We're proud of our Victorian Institute of Sport scholarship holders, not just for their impressive sporting performances, but also for the adversity that they had to overcome to get there.
Overall, there were 52 VIS scholarship holders that donned the green and gold for Australia, with 9 athletes featuring on the podium at the Tokyo Games, bringing home 1 gold, 1 silver and 5 bronze medals - congratulations must go to:
Lucy Stephan, Rosie Popa & Jessica Morrison - gold, women's four (rowing)
Josh Simmonds - silver, men's hockey (Kookaburras)
Brendon Smith - bronze, men's 400m individual medley (swimming)
Matthew Temple - bronze, men's 4 x 100m freestyle relay & mixed 4 x 100m medley relay (swimming)
Mack Horton - bronze, men's 4 x 200m freestyle relay (swimming)
Kelland O'Brien & Lucas Plapp - bronze, men's team pursuit (cycling)
These medal performances were backed up by some great individual final's performances, highlighted by Jemima Montag (6th, women's 20km walk) and Rhydian Cowley (8th, men's 50km walk) who braved the scorching Tokyo heat to both finish inside the top 8 in their race walking events.
Who could forget Tyson Bull's performance (5th, men's horizontal bar), etching his name into the history books as he recorded the best result of any Aussie men's artistic gymnast at an Olympic Games, or Sinead Diver showing the world that anything is possible, as she became only the second Australian woman to finish top-10 in the Olympic marathon at the age of 44.
Brooke Stratton (7th, women's long jump), Kathryn Mitchell (6th, women's javelin throw), and Linden Hall (6th, women's 1500m) were all stars in the track and field, all making the final of their event and giving it everything in Tokyo's National Stadium.
It was heartbreak for our trap shooters with Laetisha Scanlan (4th, women's trap) missing bronze by one target and Penny Smith (6th, women's trap) also falling short of her Olympic medal dream, still inspiring the nation nonetheless.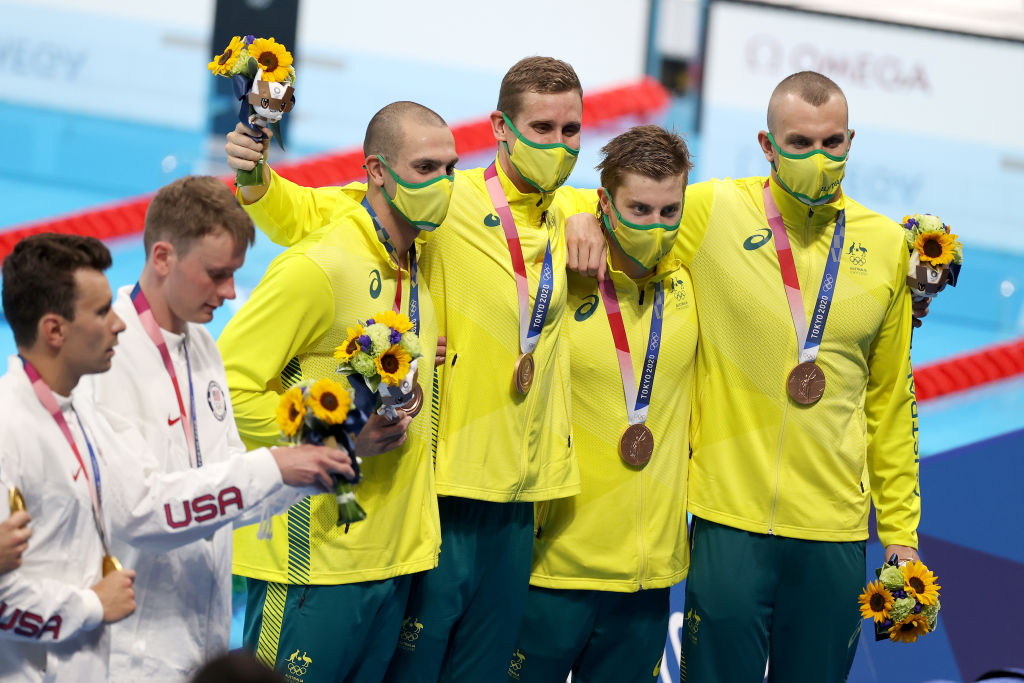 Image: Matthew Temple won two bronze medals at his first Olympic Games, Credit: Getty Images / Australian Olympic Team
The Aussie Stingers were captained terrifically by Rowie Webster, who although were knocked off by the ROC in the quarter final, bounced back to finish 5th in classification. Another exciting moment came when we were able to watch Steph Catley overcome a range of different injuries to run out for the Matildas once again. In a nervous finish, the Matildas fell agonisingly short of their bronze medal ambition, losing 4-3 to the USA.
The achievements and performances of these VIS athletes is not only a reflection of the depth of our sporting talent but the hard work of the whole VIS community including all coaches and service providers.
With the 2022 Beijing Winter Olympics, Paralympics and Birmingham Commonwealth Games around the corner and the Paris 2024 Olympic Games now less than three years away, based on the VIS' contribution to the performance of an outstanding Australian team we can confidently look forward to the future and the further success of our Victorian athletes.
We now turn our attention to the Tokyo 2020 Paralympic Games which will begin on Tuesday 24 August.
---
Click HERE to see our day-by-day VIS results at Tokyo.