The VIS "Be Fit. Be Well" schools program is open to Government primary and secondary schools.
COVID-19 update: The "Be Fit. Be Well" program has moved online and if your school is interested in the program, please contact the VIS reception on +61 3 9425 0000 or email reception@vis.org.au.
The program is free of charge to Government schools and if you are from a non-Government school please contact us to see what is available for your students at a very reasonable fee.
Last updated on 16 June 2020.

Be Fit. Be Well.
Thanks to School Sport Victoria we are able to send our athletes to Victorian Government primary and secondary schools free of charge.
The Victorian Institute of Sport schools program was introduced on the back of the famous Moneghetti review of Physical and Sport Education in Victoria in the mid 1990s and has been running successfully for over two decades.
Our athletes can stay on campus for up to one hour.
Their message to the students emphasises the link between physical activity and wellness. Key topics include motivation, resilience, goal setting, coping with pressure and health/nutrition.
To make a " Be Fit. Be Well" booking simply call VIS Reception on 03 9425 0000 or email (reception@vis.org.au)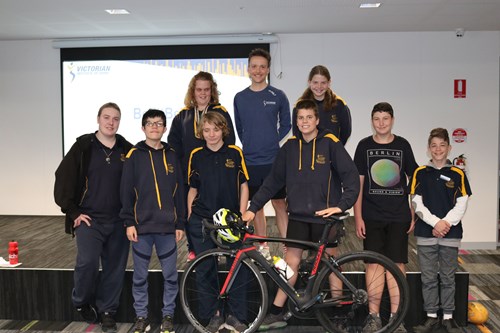 Paralympian Alistair Donohoe telling his story about overcoming adversity and showing his bike to students at Kalianna School in Bendigo.