Father's Day is celebrated across the world with the objective of realising and honouring the contribution of fathers in the society. It is a day which celebrates the fatherhood, paternal bonds and the efforts of male parents towards their family and society.

Father's Day is also an occasion to recognise and honour all the fatherly figures like stepfathers, grandfathers, uncles or even big brothers.
Today, we get to know Dave Crosbee - a former elite athlete, coach and now the Performance Director at the VIS, but most importantly he is husband to Rach, and proud Dad to Mark and Sarah.
Originally from the UK, Crosbee grew up on sports such as football, athletics and cricket.
"When I was about 11, through Scouts, I got involved in canoeing and then through local canoeing clubs started to be more involved in the sport of canoe slalom," said Crosbee.
"It was a challenge. You're competing against other people but primarily you're competing against the elements and so no course is ever the same. Even if you're competing on the same river, there will be gate sequences that always change and so there's constant challenge. You've never got the same thing twice."
Crosbee was a member of the Great Britain Junior Team from 1983 to 1986 and on turning 18 was a member of GB senior teams up until 1994. Crosbee saw himself as a "solid international paddler", with his best results within the top 10 in the world. Although he did not achieve his ambition to be world champion, his performances at the top level sparked his interest in coaching.
"I wasn't able to deliver the level of performance I was capable of regularly enough, and enough times on the right day. But I think being puzzled by that then helped when I went into coaching because as a coach I think you need to be really fascinated by that process of performance."
Alongside his job in a cancer research laboratory, Crosbee began coaching the GB Canoe Slalom Team part time. In 1999 he made the decision to take up coaching full time and was appointed coach of the National Irish Team through to the Sydney Olympic Games.
"Helping athletes, you're still a competitor; you're just doing it in a different way. When you see an athlete do well and you see the emotions that they get out of it and the satisfaction, it gives you that satisfaction for yourself."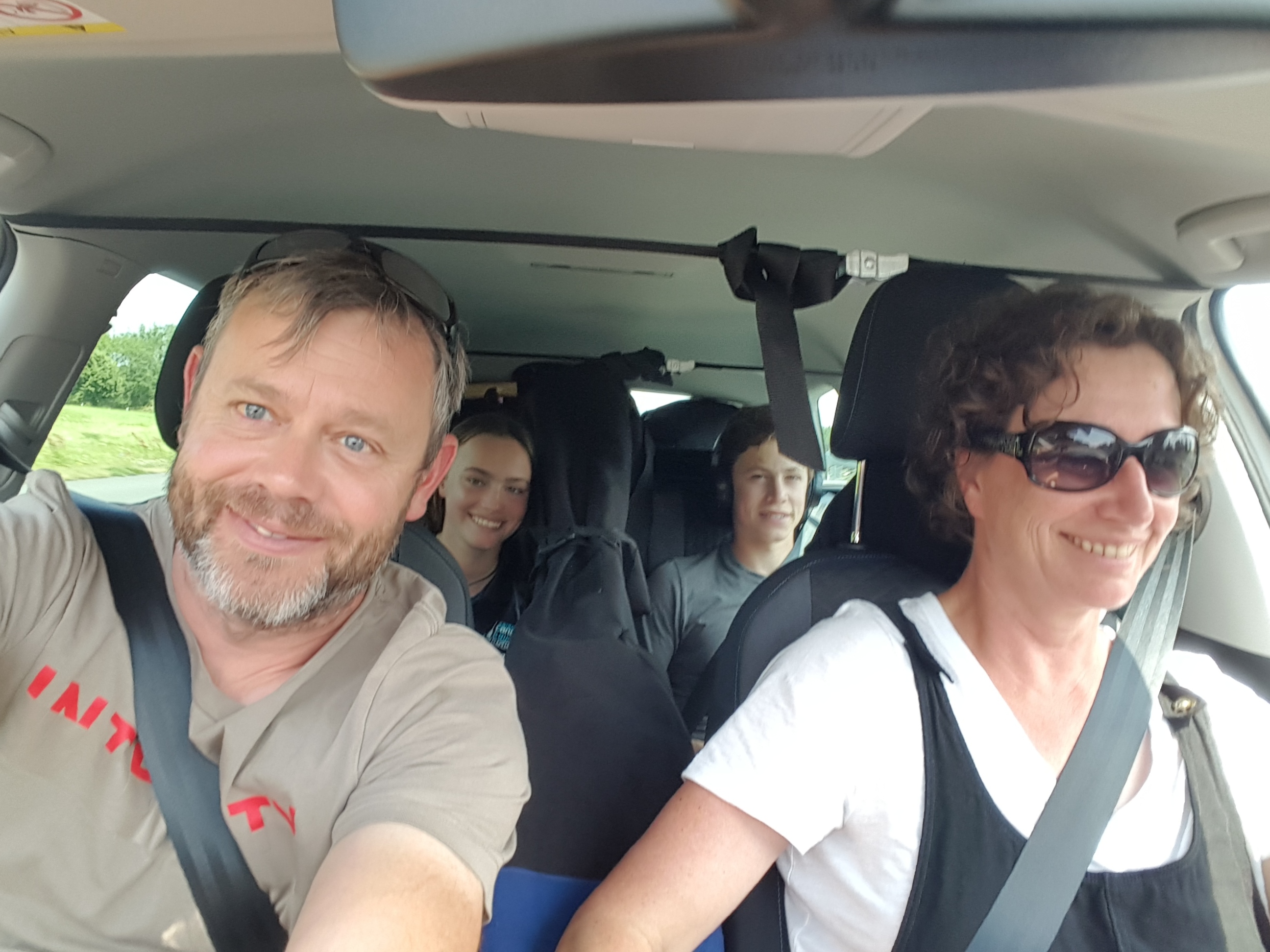 Image: The Crosbee's driving back from the Junior World Champs in Krakow, Credit: Supplied
Following the Sydney Games, Crosbee returned to coaching the GB teams and programs until 2003 when he re-evaluated his career as a coach. Spending six to seven months away from home each year and with a child on the way, he found that the lifestyle was not ideal.
"I saw a job advert in Scotland with the Scottish institute of Sport which is a multi-sport institute, which was an intriguing opportunity to explore working with other sports and led to a relocation from Nottingham to Stirling and work with a wide range of summer and winter sports including Curling".
"Following a disappointing Vancouver Olympics, the British program had a shake up and I was lucky enough to be appointed to the role as a Performance Director of British and Scottish Curling through to 2014."
When an opportunity presented itself at the VIS in 2014, Crosbee was ready for his next challenge.
"If you look at my career, it's never been a planned career as it were; it's been about opportunities and testing myself and just seeing other environments and whether they'll be interesting."
"My wife and I had spoken about living and working abroad. I found the concept of what was going on in Australia, with the Australian winning edge really fascinating."
When asked what he enjoys most about his role at the VIS, Crosbee says he is fascinated by the variety of sports but also enjoys working with good people.
"Sport has a lot of good people on a technical level that have a lot of knowledge but just generally sport is populated by good people, people who are interesting and stimulating to be around."
Both Dave's children compete in canoe slalom which, given their family history, is hardly surprising.
"For us we are happy to support Mark and Sarah as long as they enjoy the sport."
Mark, a current VIS scholarship holder, has so far had a successful junior career, competing and winning medals at the 2019 European Junior Cup events and at the World Junior Championships in Krakow in 2019, narrowly missing out on the semi finals. He has since been selected for both the 2020 and 2021 AUS Junior World Championships teams, even though neither of those teams have been able to compete due to COVID
Sarah competed at the Junior Nationals in Tasmania in 2020. At 13 she won the U16 age category in both her events. She was also selected for the National Development squad for 2020 and camp to New Zealand to train and compete, but unfortunately that was also cancelled due to COVID.
Dave's wife, Rach Crosbee (nee Fox), also competed at an international level from 1988 to 2000, winning multiple individual World Cup and team World Championship medals. She competed in two Summer Olympics, earning her best finish of 16th K1 event at the 1992 Summer Olympics in Barcelona. She is the younger sister of Richard Fox, sister-in-law of Myriam Fox-Jerusalmi and aunt to Jessica Fox and Noemie Fox, all slalom canoeists. Jessica most recently won gold in the C1 class at the Tokyo 2020 Olympics.
The Fox/Crosbee clan in the sport is becoming a bit of a dynasty!