Born without a left arm or left lung, Tim Matthews never felt he had a disability, reaching for the stars he went onto become a triple Paralympic gold medallist.

Despite his positive approach to life, it hasn't always been easy for Matthews. He spent much of his early life at the Royal Children's Hospital. He was born with a condition known as 'Exompholas'. In about 30% of cases, the condition occurs in conjunction with other birth abnormalities. In Mathews' case he was born with some webbed fingers and no left arm.
But it never stopped him from doing what he wanted to do. He always loved sport and played anything and everything he could; with tennis, baseball and golf being among his favourites.
As he always had to use the right-hand side of his body, this gave him a scoliosis by grade 6 and he had to start wearing a brace. Wearing it 23 hours a day, it became too hot and tight and he couldn't play sport wearing it, so he played a lot without it. This led to the curve in his spine gradually worsening. As a 16-year old he had to have a spinal fusion to partially correct his scoliosis which kept him lying on his back for two months and away from sport for two years.
"This was the most frustrating period of my life", he said, "My back is still sore if I stand for a long period, if I had my time over, I definitely would have worn my brace".
"The tennis tournament that changed my life".
When first contacted to play in the National Amputee Tennis titles in 1994, Matthews didn't think that he qualified to compete because he never actually had an arm amputated, he just never had one.
"I had never played sport against athletes with disabilities". He said.
He quickly found out that he did qualify as an amputee and whilst he didn't win the tournament, he met David Evans in the final. At the end of the match, Evans suggested to Matthews that he should go and try sprinting as he was so quick around the court.
Two years later, he found himself at the 1996 Atlanta Paralympic Games with a gold medal around his neck, for his part in the men's 4x100m relay for amputees on the track.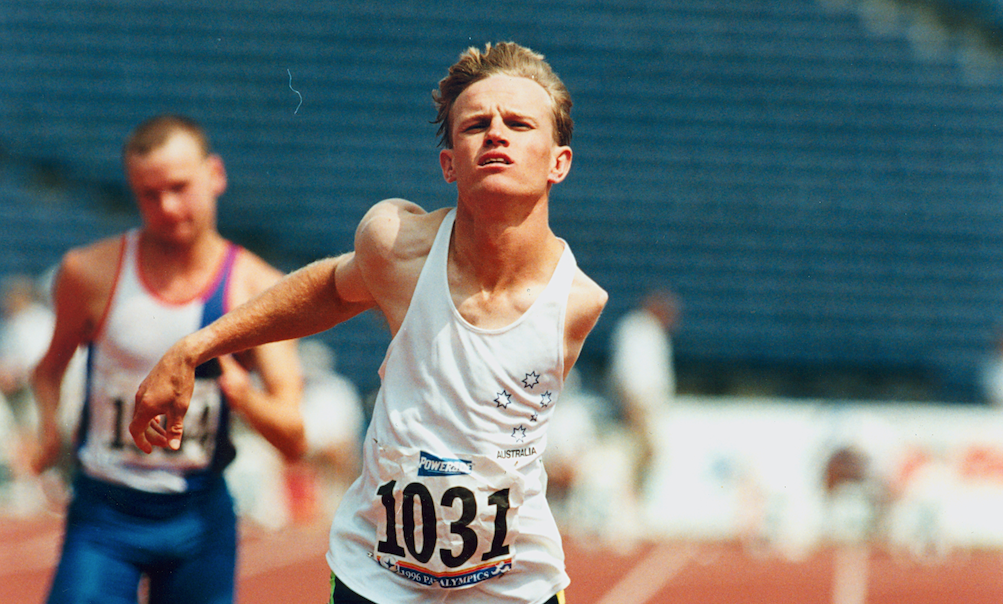 Image: Matthews crosses the line at the 1996 Atlanta Paralympic Games
"I was fortunate to be part of the relay team that won gold and broke the world record. Standing on the medal dais with the national anthem playing and the flag being raised in our honour was a moment I will never forget." He said.
Post Atlanta he moved to Melbourne to further pursue his athletics career with the 2000 Sydney Olympics now on the horizon. Matthews made the most of the support he was given by the Victorian Institute of Sport (VIS).
"All the way from Paul Kiteley with whom I planned the best use of my scholarship funds, to Mark McGrath in strength and conditioning and Karen Inge who prescribed a far better diet than I had previously."
Matthews said the VIS helped him see himself as an "elite athlete" and that he started to "try and think like one."
"I found training alongside able bodied sprinters at the VIS very beneficial in this respect." He said.
Sydney 2000
Leading up to the Sydney Paralympic Games, Matthews was consistently running under the 11 second mark for the 100-metre sprint. This was the benchmark for all upper limb amputee sprinters around the world and a time quick enough to win a gold medal.
In a photo-finish 100m final, Matthews came milliseconds away from the gold medal, winning bronze. He also went onto win another bronze in the 200m final. But to top off an incredible campaign, he was part of the team that won gold in 4x100m and 4x400m final making him a three-time Paralympic gold medallist.
But Matthews said whilst the 2000 Sydney Paralympic Games was an incredible experience, he believes the best part to come out of it was seeing how "the Games put disability and the abilities of disabled people at the forefront of a mainstream audience."
"The Sydney Paralympic Games changed the perceptions of people with a disability in the country. The crowds loved it, and we were finally being recognised by the public as athletes first". – Tim Matthews
"Life is to be lived, so enjoy"
In his 12-year sporting career Matthews was able to travel to 28 countries around the world and meet some inspirational people, including some of the best athletes in the world, the Prime Minister and even the Queen.
"I feel privileged for the experience I've had".
Matthews is a great role model and during his time at the VIS was involved in the Sport Persons Program (now known as the Be Fit Be Well program) inspiring school students all around the state to achieve their dreams.
"I love talking to kids, particularly country kids, convincing them that if they want something, they have to get off their backsides and get it themselves". He said.
Since his boyhood days in Bairnsdale he has avidly pursued his love of sport and the outdoors to a point where he is now one of Australia's greatest ever sprinters.
Matthews has been employed by Paralympics Australia for the past 15 years and is currently in the role of Senior Manager, Para-sport.
Stay up to date with our 'Remembering VIS at the Games' campaign here.