Mark participated in no less than six Olympic Games and in 2007 he was inducted in to the International Shooting Sports Federation's Hall of Fame as the greatest double trap shooter of all time.

In 2019, he was nominated to the Sport Australia Hall of Fame. The second shotgun shooter honoured and only preceded by Donald Macintosh, who won gold at the 1900 Paris Olympics.
The Atlanta Games was the most memorable event of Mark's career and he spoke to the VIS about what made 1996 so special.
Strange times
The 1996 Olympics was Russell Mark's third Olympic Game. The Hoppers Crossing native went into Atlanta as one of the favourites to win the competition being only a couple points away from a medal in Barcelona.
Since the defeat in Barcelona, Mark had won every major event in the double trap and the only major title left was the Olympics. This was also the first time that the event was on the Olympic program.
As an experienced Australian Olympic Team member one could think that Mark would breeze into the Games having been through the four year cycle already twice. On the contrary, the lead up to the 1996 was a "strange time" as Mark recalls it.
Only a couple of months before Atlanta, the tragic event in Port Arthur took place changing Australia's relationship with guns forever.
"It was a really difficult time to be a shooting athlete," Mark explained "we were an unpopular group, from an unpopular sport". "Every media interview we would do would be about what we thought about the gun laws". - Russell Mark
The pressure from the media was taking a toll on the shooting athletes. Mark and fellow medal hope Michael Diamond decided to prepare for Atlanta at the Miramar Naval Base in San Diego. They were the last two Australian Team members to arrive in the Olympic Village and ended up in room 13, which all the other athletes had avoided due to its history of bad luck.
Unlocking key factors with VIS experts
In Barcelona, thoughts about winning and the material prizes had made Mark loose his focus at the time it mattered the most. "It was 'the little man' in my head that got in the way," Mark explained.
Together with VIS Sport Scientist Troy Flanagan Mark had started to work on breathing techniques that would ultimately alter his career. "In the lead up to the 1994 World Championships we unlocked a real key factor and we worked out how to put that little man away," Mark said.
Using heart rate monitors Flanagan identified that if Mark got his heart rate down in the 10 seconds prior to his shot, he would hit his targets and lead the scores.
"The VIS supplied some good people," Mark said. He also worked with VIS Sport Scientist Nick Sanders, who analysed his shots by putting cameras on the guns.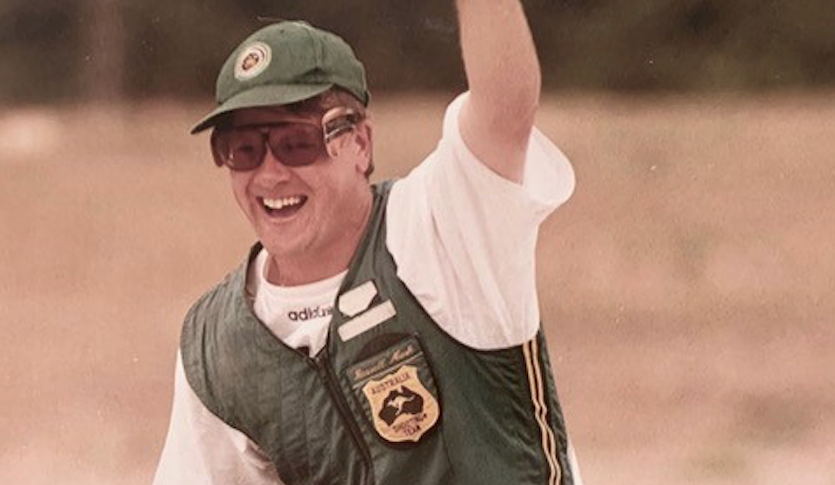 Image: Russell Mark celebrates his gold medal on his teammates shoulders.
The Dynamic Duo in (un)lucky number 13
In 1996 it had been almost a century since Australia last won a shooting event at the games. Not since Donald Mackintosh potted live pigeons at the Paris Games had Australia won gold and in 1996 they not only had one but two medal favourites.
"You could've picked either myself or Michael Diamond as the favourite for a gold medal," Mark said.
"We had a healthy competition," Mark recalled about their relationship and continued "we pushed each other and it made us better".
In the Men's Trap final, Diamond broke Australia's shooting gold medal drought and with nerveless poise he hit 25 targets out of 25 in the final.
Mark didn't feel any added pressure following Diamond's gold and the day after it was his turn. "I felt great that morning," Mark recalled. "My preparation was great and the guy in the bed next to me just won a gold medal. It was all positive".
On the morning of his final, Mark told Team Coach Murray Alexander: "There is nothing surer than I'm going to win today". This time Mark wasn't going to let 'the little man' get in his way of a gold medal.
In the final he set a record of 189 points, hitting 48 of 50 targets in the final round.
With his Atlanta gold he completed a grand slam, winning all four of the world's major individual titles. Solidifying his reign of the double trap event.
Mark and Diamond both left the Olympic Village shortly after they finished competing and room number 13 was in high demand following the dynamic duo's double gold.
"How I still own that gold medal is beyond me"
The gold medal was a relief. Mark had reached the pinnacle of sport but also helped switch the focus on the sport itself and not shooting as a political subject. "Our gold medals changed the way people thought about the shooting sport and that was the real relief," he said.
Regardless of his result in Atlanta, Mark had planned a vacation together with all of his mates in Hawaii straight after his competition concluded. "At least 10.000 people must have a picture of that gold medal in Waikiki Beach," Mark laughed "how I still own that gold medal is beyond me".
Mark returned a week later to Australia and participated in the home coming parade. The break in Hawaii was just what he needed. The shooting team's success in Atlanta meant that the media now had to ask them questions about the sport and not what they thought about the politics around gun legislation.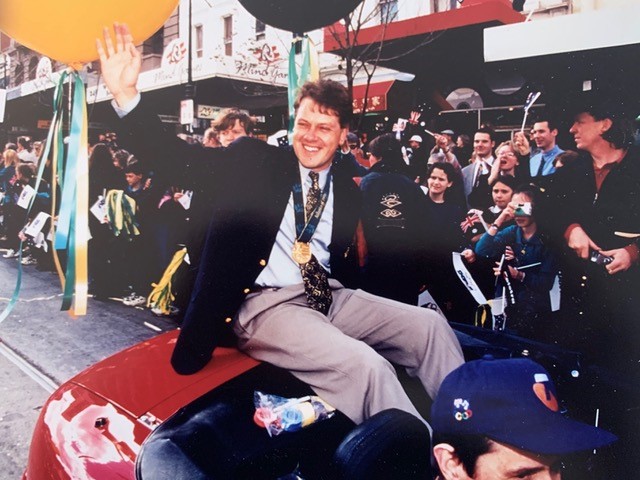 Image: Russell Mark celebrates his Gold Medal at the Welcome Home Parade.
Success in Sport and Life
1996 was Mark's greatest success and the year where everything came together. He would go on to win a silver medal in the Sydney Olympics and compete in Beijing and London as well. His motivation however was never the same after he reached the pinnacle.
"After 1996, I realised that the sport consumed me and I wanted to focus more on my life outside of sport," Mark recalled.
Mark has always credited his father Brian for his success both on and off the range. His father made sure he had an education before pursuing his sporting goals and that Mark had set up a plan for after sport.
Mark is now emphasising the importance of a dual career when inspiring the next generation of shooters. He is the coach of VIS' Tokyo medal contenders Laetisha Scanlan and James Willett.
He credits the VIS for always emphasising the dual career with athletes and he recalls having many good conversations with VIS' first CEO, Dr Frank Pyke.
"The VIS has never been shy of thrusting the importance of a second career in with their athletes," Mark said "that is the strength of the VIS".
Mark also highlighted his relationship with former VIS Performance Manager, Paul Kiteley as someone who had impacted his career and life. "Paul is a tremendous guy and nothing was never a problem for him," Mark said "He was the connector and that is where the VIS is very good because they are always there to fill the gaps for their athletes".
Even though Mark didn't want shooting to consume everything in his life he still credits most of what he has got today to the sport. "My success in sport also helped me realise my dream in setting up my business and I now own two hotels," Mark said.
It was also through the sport that he met his wife Lauryn at the World Cup in 1998. They have three children and run a clay target business together.
Stay up to date with our 'Remembering VIS at the Games' campaign here.