The Victorian Institute of Sport (VIS) closed its high performance facility on Monday 23 March, in order to safeguard athletes and staff health and following the direction of the Victorian Government to influence behaviours to reduce the risk of individuals contributing to community transmission of COVID-19. VIS Physical Preparation and Sport Science Manager, Harry Brennan had already been planning for this scenario.

Brennan said that as soon as he and his team found out that the VIS would be ceasing delivery of face-to-face athlete services they had to ensure athletes would still have the equipment to enable them to train at home.

"Knowing that some of the athletes would have limited space to train at home, we had to work out what would be the minimum equipment an athlete would need to do a program and if we needed to source anything additional." He said.

With over 250 athletes on scholarship at the VIS, staff had to ensure that everyone was looked after, this meant that whilst some of our strength and conditioning coaches were sorting out take-home packs for athletes, the others were phoning local suppliers to find out what they had in stock and how soon we could get the equipment ready for athlete
Image: Dumbbells ready to be sorted into athlete packs.
"We ordered resistance bands, skipping ropes, dumbbells, TRX / gymnastics rings, and medicine balls." Brennan said.

With all equipment ordered Monday morning, everything was picked up by the afternoon and athlete packs put together throughout the evening, ready to be collected the following day by each different program.

Brennan had one word for the chaotic week – "Busy!"

A professional removalist company was also hired to help with the logistics for the delivery of slightly bigger items, such as the treadmills, elliptical trainers and 'ergos' (indoor rowing machines).

"We wanted to be able to do the collection and distribution in one hit." He said.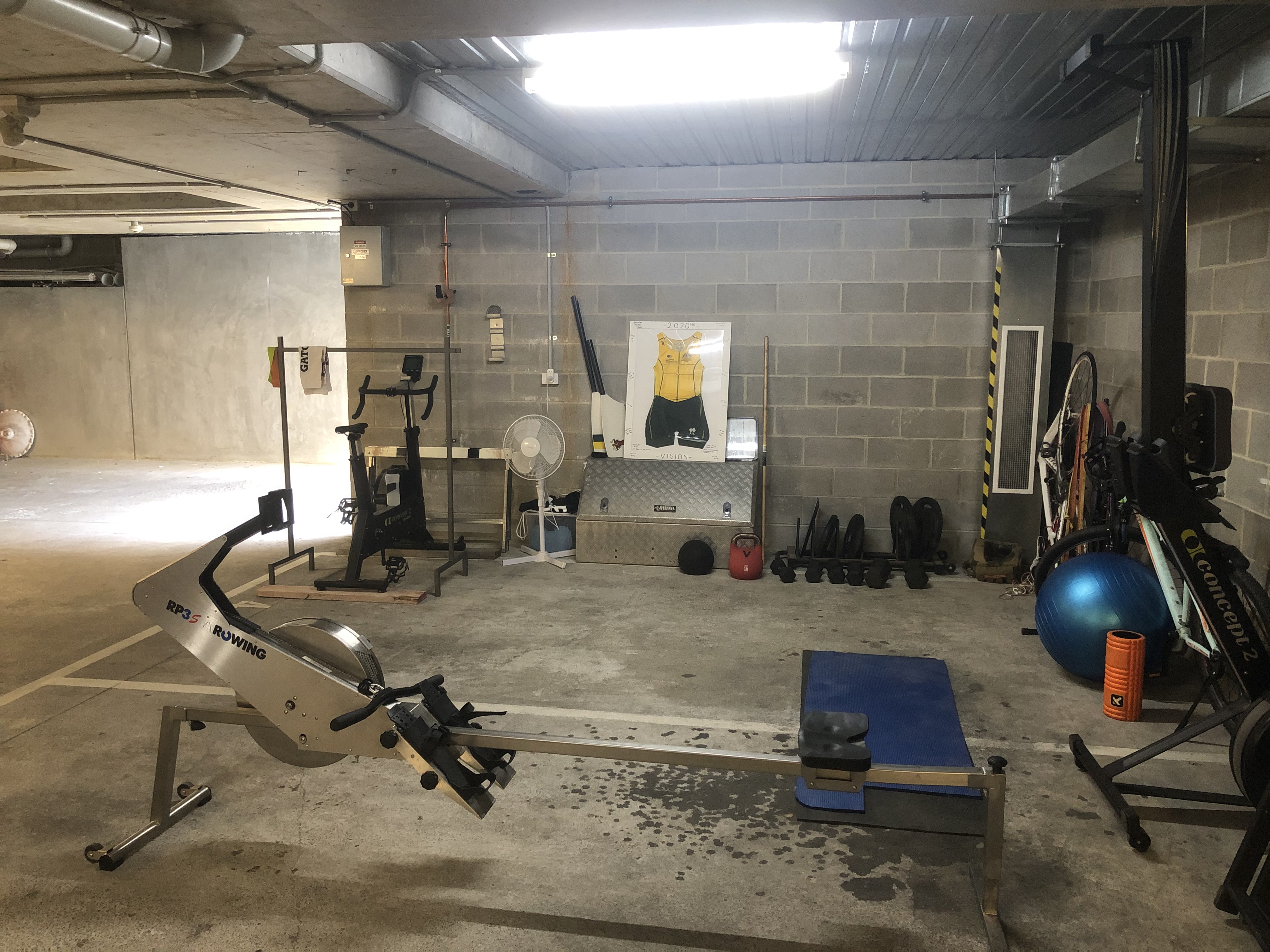 Image: VIS athletes Al Viney and Laura Thomson's home gym after equipment arrived.
Staff members have gone above and beyond for the athletes, and some have even completed their own personal equipment deliveries. Physical preparation coach Farhan Juhari travelled to several destinations to deliver 'ergos' for his rowing athletes including a trip from Albert Park to Mornington to Sunshine.

Lead physical preparation coach John Tascone and assistant Bailey Attard also drove around town to deliver spin bikes for the women's hockey program, which included a journey from Point Cook to Frankston.

VIS CEO, Anne Marie Harrison praised the work of the VIS staff during these "truly unique and challenging circumstances."

"I have been so impressed by the resilience, proactivity and creativity already being displayed". She said.

"We are all in this together and will stay connect so we will be ready to return to day to day operations as soon as it is safe to do so."
Image: Equipment leaving the VIS to be delivered to athletes by VIS S&C Coaches.
Brennan ensured that his team will still be coaching and programming athletes virtually. One of the tools used is the app 'Teambuildr'. Which allows coaches to post programs as well as the ability to upload video clips of each specific exercise.

Sport scientist Sylvie Withers and physical preparation coach Ben Willey, pulled together a session for the sailors last Friday, which required them to join a live video conversation to all work out together online.

"The Coaches will use video apps to coach sessions and interact with the athletes. This will also allow the athletes to continue to train with their squad and stay connected." Brennan said.

"Ultimately we will also try and make the session's fun and engaging taking into consideration it is a difficult mental space for many of the athletes".