Wheelchair basketball is the fastest growing sport for athletes with disability, according to Disability Sports Australia. It is played in 80 countries and has more than 100,000 players.

When Chithic Machar attended a school holiday program for wheelchair basketball as a teenager in Werribee, he discovered a passion he is now turning into a career.
Chithic, 23, was born in Egypt to South Sudanese parents, who moved to Australia as refugees when he was just two years old.
Growing up in Sydney, Chithic participated in para-athletics, like shot put and discus throw.
"I was born with spina bifida and have been in my chair my whole life. When I was little, I started doing wheelchair racing and athletics during school," Chithic says.
When Chithic moved to Melbourne as a teenager he learnt about wheelchair basketball.
"I loved the environment - the team, the ball, going up and down the court, shooting and having fun. They started saying I was getting better all the time."
This feedback motivated Chithic to try out for the Victorian State Team.
"The try outs were at the State Basketball Centre and there were a lot of people there. I gave it a go, but I didn't make the team."
Despite the setback, over the next 12 months, Chithic continued to train.
"My teammates were encouraging and every training session, they would push me along. I made the team the next year."
In February this year, Chithic was awarded a scholarship for the Victorian Institute of Sport's (VIS) newly established Wheelchair Basketball Program.
Image: VIS wheelchair basketball team in the 2023 NIN Challenge, coached by VIS Wheelchair Basketball Coach, Craig Campbell. Chithic, far right.
Launched last year in partnership with Basketball Australia and Basketball Victoria, the Wheelchair Basketball Program is led by VIS Head Coach, Craig Campbell.
"In Australia, there are a lot of good things happening in wheelchair basketball, particularly for players like Chithic," says Craig.
He is currently coaching Chithic once a week at the world class facilities at the VIS in Lakeside Stadium in Albert Park, focusing on performance, strengthening and conditioning.
"Chithic gives effort no matter what and he always exceeds other people's expectations about what is possible," says Craig.
"We work well together, it's easy to coach good people. He gets in, asks questions and learns. He is so coachable and that makes our job easier."
Chithic's dream is to play wheelchair basketball overseas for Australia, and says it is his teammates and coach who continue to inspire and motivate him.
"Basketball is a big family, everyone uplifts each other. My teammates, the coach - everyone is there for each other no matter what."
Craig explains that it takes more than technical ability and tactical skills to become an elite athlete like Chithic.
"Some sports use the term 'grit' and 'coachability' and that is the X-factor. People need to be coachable, and you can teach skills, but you can't teach having fire in the belly or love of the game. That comes from within, that is where they get the grit from."
"With Chithic's ability and ambition, it is exciting to see where he ends up and we will do whatever we can to help him to get there."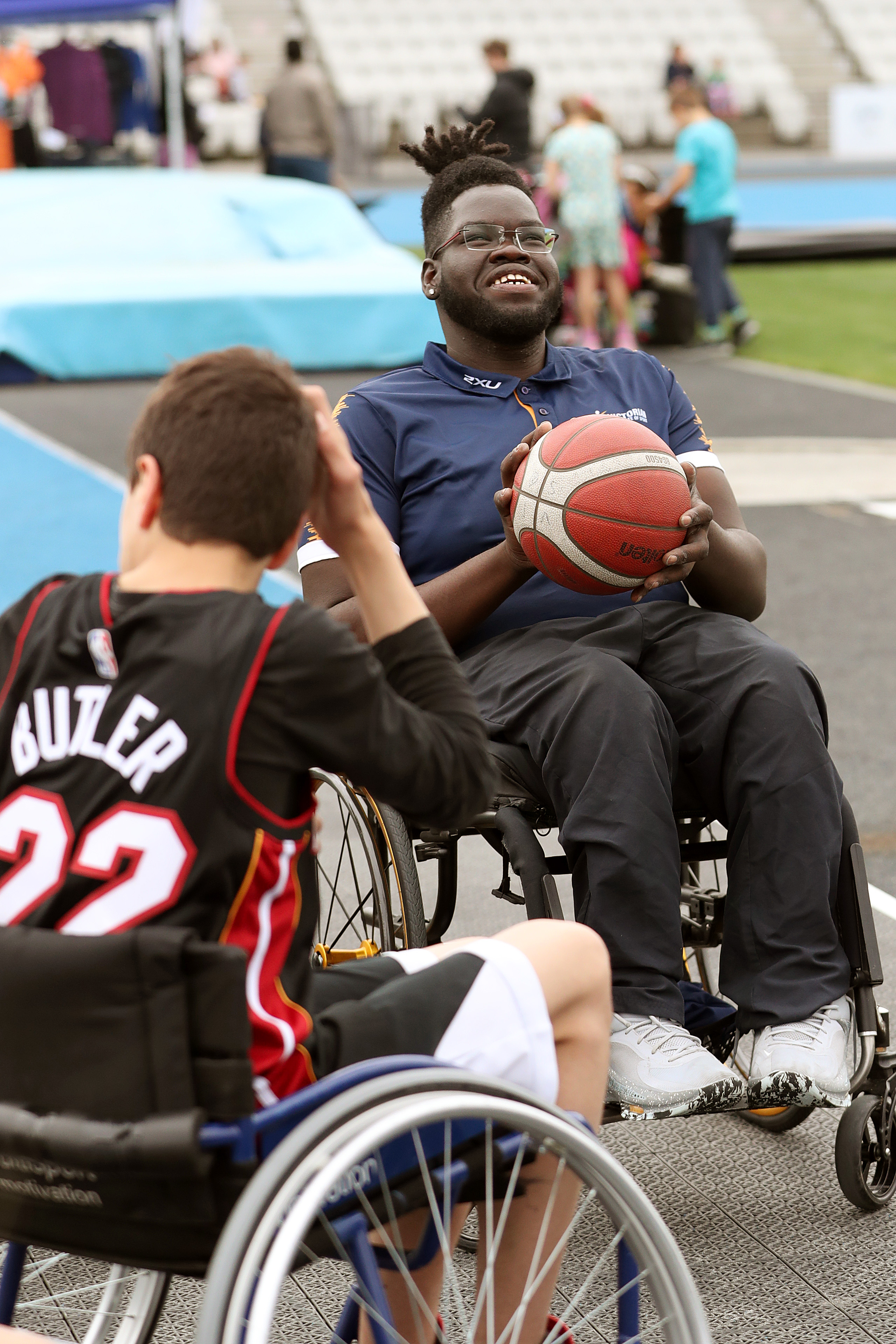 Image: Chithic at the VIS Open Day, 2023, where he assisted in running the wheelchair basketball activity.