The Paris 2024 Summer Paralympic Games: One Year-to-Go
This time next year the world's best Para athletes will gather in Paris ready to make history at the 2024 Summer Paralympic Games, also known as the Games of the XVII Paralympiad.
The Games will take place over 11 thrilling days of competition from 28 August to 8 September 2024, bringing together 4,400 of the world's most outstanding Paralympic athletes. Twenty-two sports will feature at the Games, in 23 disciplines and a total of 549 events.
Many events will be held in awe-inspiring settings: Les Invalides for Para-archery; the Champ de Mars, at the foot of the Eiffel tower, for blind football, Para-judo and wheelchair rugby; and the grounds of the Château de Versailles for Para-equestrian.
"The spectacular event venues away from traditional stadium settings will make for a unique experience for everybody involved in the Games," said VIS CEO Anne Marie Harrison.
Since 1992 Victorian Institute of Sport athletes have a proud history of representation in Australian Paralympic teams; there were 31 VIS scholarship holders that represented Australia in the Tokyo 2020 Games, with our athletes bringing home an impressive 4 gold, 12 silver and 5 bronze medals. This contributed to the 80 medals of the Australian Paralympic team – finishing eighth in the overall medal tally.
"From Emily Petricola OAM smashing her own World Record and winning gold at her first Paralympic Games, to Dylan Alcott OAM notching up back-to-back wheelchair tennis gold medals in the quad singles, Tokyo 2020 had it all, and I have no doubt that there will be many more inspirational performances in Paris next year," said Harrison.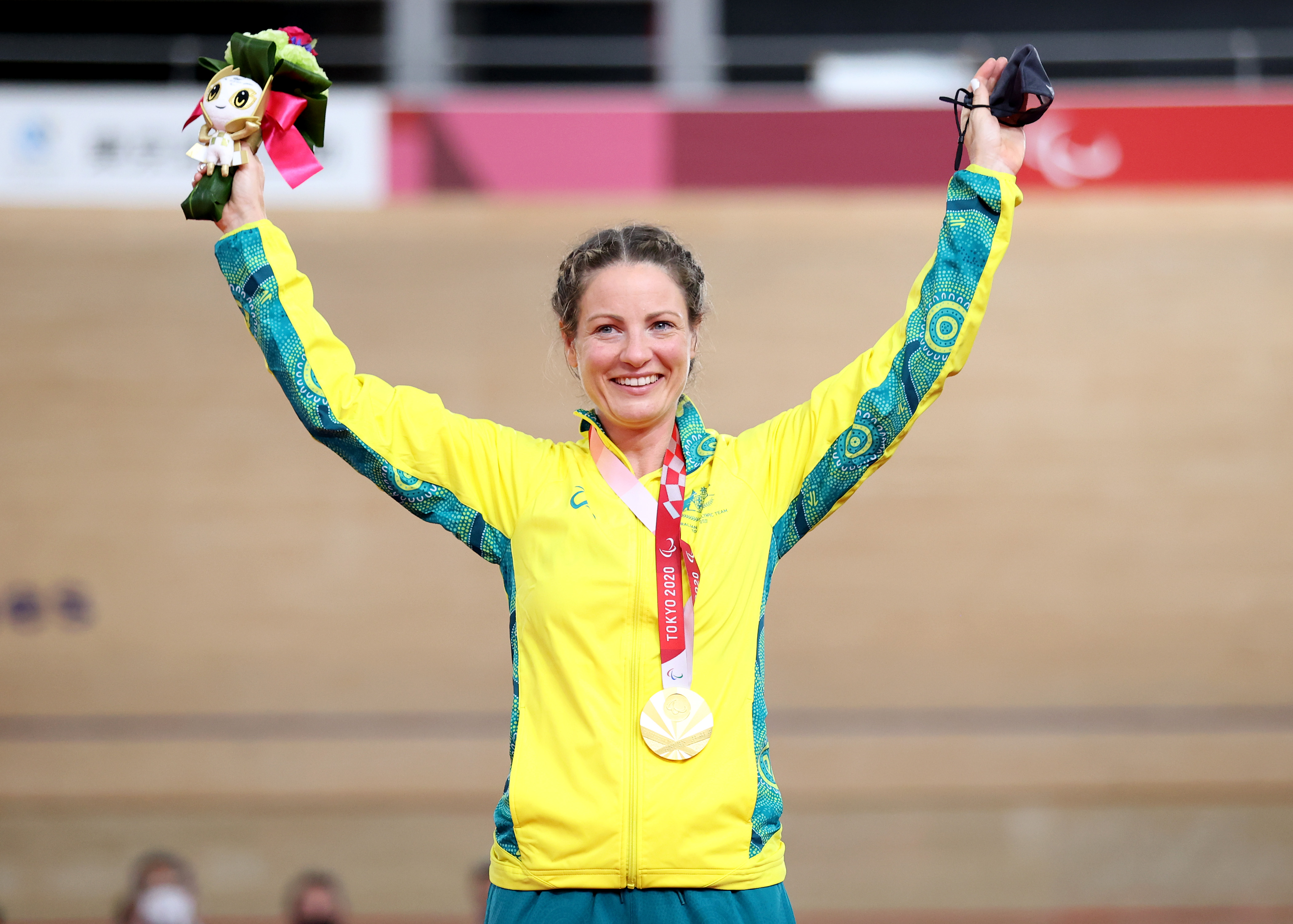 Image: Emily Petricola wins the Track Cycling Women's C4 3000m Individual Pursuit gold at Tokyo 2020 Paralympic Games.
Paralympics Australia is aiming to send more than 180 athletes from 20 sports to the 2024 Paralympic Games, with many VIS athletes vying for Paralympic qualification and selection over the next 12 months, including;
With two silver medals and a bronze to his credit from Tokyo 2020, vision impaired Para-athletics star Jaryd Clifford is aiming to reach the top of the podium with his pilot Tim Logan when he competes in the French capital at what will be his third Paralympic Games next year.
At 27 years old, Emily Petricola was diagnosed with multiple sclerosis. Her weight ballooned due to her inability to exercise and steroid medication, she gave up her business and struggled with her mental health. Seven years later she reached out to two friends, and retired Olympians, who introduced her to Para-cycling to help her get fit again. Over the next few years, Petricola went on to qualify for the 2020 Tokyo Paralympics, and became a Paralympic Champion. The recently crowned World Champion will be looking to defend her Paralympic title in Paris.
Alistair Donohoe knows adversity - not just after what happened in Rio (a late collision robbing him of gold in the road race) and Tokyo (finishing fifth after crashing and then cramping, also in the road race), but what brought him to Paralympic sport in the first place. At just 15, he was involved in a freak accident when a rope swing wrapped around his arm as he jumped from a tree into a creek, severing his bicep and triceps. A dual Paralympian, Donohoe is a multiple Paralympic medallist, but it's the road race that eludes him and it's what consumes him as he prepares for Paris.
Col Pearse had his right foot amputated when he was 2 years old, after an accident with a lawn mower on his family's dairy farm in Echuca. Pearse has never let his disability get in the way of dreaming big, turning his adversity into great sporting success in the pool. The 20-year-old has won medals at the 2020 Paralympic Games, the 2022 World Para Swimming Championships and the Birmingham Commonwealth Games. Back in 2020 leading into his debut Paralympics, Melbourne's COVID-19 lockdowns did not stop Col from training and when the pools were closed, he went back to his parent's farm and built his own training pool in the farm's dam. He created starting blocks from wooden pallets and the lane ropes were held up by empty plastic bottles. His preparations for his Paris campaign have certainly been more conventional!
Librarian by day, wheelchair rugby player by night, Shae Graham was the first female athlete to represent Australia in wheelchair rugby. Graham was only 18 when she was a backseat passenger in a car accident, suffering life-changing injuries including a fractured spine. For almost a decade the once sporty child was uninterested in playing sport. That was until she lost a friendly bet to her brother, compelling her to try wheelchair rugby. Shae was selected to compete at her first Paralympic Games in Tokyo 2020 where the Steelers' nine-year reign as Paralympic champions came to an end when the team finished fourth, the first time in 17 years that the team didn't win a medal. The Steelers returned to old form when they won the World Championship in Denmark last year and will be vying for Paralympic glory again in Paris.
Laura Davoli cannot run or walk, but she can roll like the wind on her wheels. At age 7, Laura went into a coma and almost died after she developed a deadly bacterial infection. She survived but lost both legs. Now in Year 12, Davoli is a World Championship representative with the Australian Gliders Wheelchair Basketball Team and is on track to make her Paralympic debut next year.
Liam Twomey has faced many adversities and challenges in his short life; he was diagnosed with an Ewing Sarcoma and had his right leg amputated below the knee, something he struggled to accept through his teenage years. He found relieve from his grief in self-destructive behaviours that brought him no joy. At 21, Twomey moved states in need of a fresh start, a move which afforded him a new found love for sport, and a new outlook on life. Today he is an elite para-triathlete training to hopefully compete at the Paris Paralympic Games.
These are just a small selection of the many inspiring and aspiring para-athletes on their quest for Paralympic glory in the City of Lights whilst donning the green and gold next year.
"On behalf of everyone at the Victorian Institute of Sport, I wish our athletes the best of luck on their quest for Paralympic qualification and selection over the coming months," Harrison added.
Since inception in 1990, the VIS has contributed to the success of 42 Summer Paralympic Champions winning 56 gold medals across 9 sports, including Dylan Alcott (Para-basketball and Para-tennis), Kelly Cartwright (Para-athletics) and Carol Cooke (Para-cycling).
About Paris 2024
France will be hosting its first-ever Summer Paralympic Games in 2024. The programme will include 22 sports and 23 disciplines for 549 events, spread over 269 sessions and eleven days of competition held at exceptional competition venues.
The Paris Games will feature a record number of medal events and athlete slots for women, as well as more competition opportunities for athletes with high support needs. The Games will include a record 235 medal events for women, eight more than at Tokyo 2020. There will also beat least 1,859 slots for female Para athletes, almost double the 990 women that took part at Sydney 2000.
The overall number of participating females could also increase further as there are 339 gender-free slots for the Games.
There will be no new disciplines at the Paralympic Games, but Para-badminton will begin its second-ever Paralympic appearance in Paris on 29 August. This new Paralympic discipline enjoyed great success in Tokyo.
From the bid through to the organising of the Games, equality is a driving force behind the Paris 2024 project. The emblem, the mascots and the Torch all share the same design for the Olympic and Paralympic Games.
 For more information visit: Paris 2024 Summer Paralympic Games | IPC