VIS Manager of Physical Therapies Steve Hawkins, and VIS Physical Preparation Coach Ben King, have been on the 'ride' with Wallace for the last 3 years. She describes them as "her rocks" in her journey back to the court after a series of knee injuries threatened to end her promising basketball career.

"I honestly wouldn't have made it back to playing professional basketball without the support of the people in my corner at the VIS," Wallace said.
Wallace's Heartbreak
Considered to be one of the best talents of her generation in the American college system, it seemed that Wallace was always destined for big things. But in her final playing year for Baylor University in Texas, she suffered her first anterior crucial ligament (ACL) tear, bringing her prosperous college career to a close, a competition where she had earned all-conference defensive honours.
"When I first tore my ACL, I was upset at the time, but I don't think I really understood what it meant or the journey I was about to undertake," Wallace said.
After suffering the blow, Wallace thought there was "no doubt" she would miss out on the WNBA and was "shocked" to receive a phone call from the Atlanta Dream, who drafted her with the 16th pick in the 2018 WNBA draft, even knowing she would not be on the court for some time.
The rehab was "relatively uncomplicated," and she made it back to the WNBL with the University of Canberra Capitals for the 2018/19 season. In her second game after spending nine months on the sidelines, Wallace went down in agony clutching at the same knee, with her worst fears later being confirmed that she had torn her ACL and would need another reconstruction.
Rehab is never a fun journey, it's a long, gruelling process and for Wallace, it gave her plenty of time to think. The journey was now no longer about returning to the court to play basketball at the highest level, it became more about self-discovery – who was Kristy, if she wasn't a basketballer?
Wallace made the decision to "start fresh" when an opportunity came to move to Melbourne.
The Victorian Institute of Sport
"I remember my first coffee with Ben King, I told him that my only goal at that point was simply to be healthy and to run again," Wallace said. "Our journey began there."
Ben King who started at the VIS in 2016, has a wealth of strength and conditioning experience, having worked with some of Victoria's best athletes. Wallace says that since the day they met in 2020, King has supported her every step of the way.
"There were days when I would be a bagful of tears, crying during my warm-up's and having no idea what I was doing or why I was doing it," Wallace said. "Regardless, Ben showed up every day, and that meant the world."
"He kept tedious rehab playful, challenged me mentally, physically and worked incredibly hard to find different strategies and methods that worked for my body."
"No matter how I felt walking into the VIS, I always felt better after I'd been in the building," she said.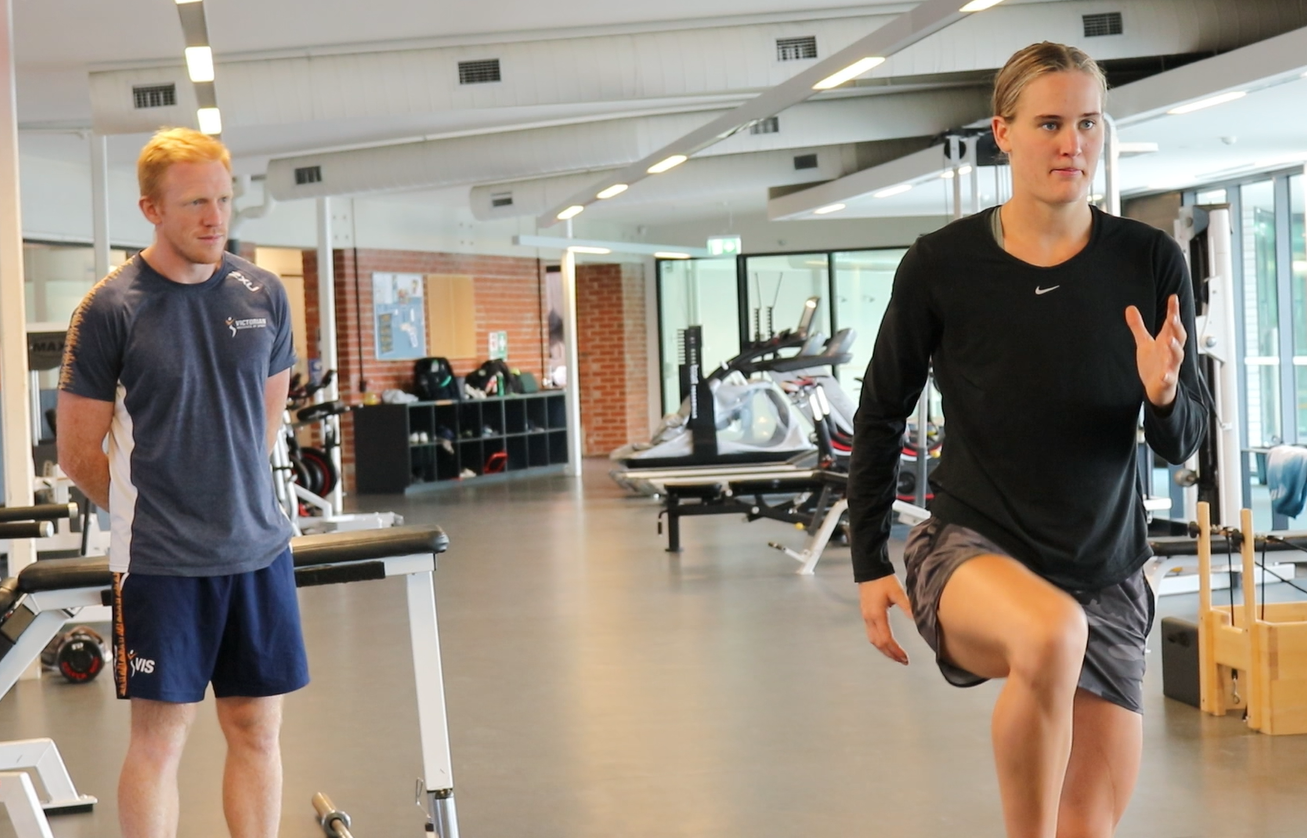 Image: Wallace and King at VIS HQ
Another challenge arose in 2020, the VIS closed its doors for the first time in its history due to the coronavirus pandemic, with staff and athletes forced to work remotely. A time Wallace says was "challenging" with everyone being isolated from each other.
"I never once felt alone in my rehab, even during the coronavirus pandemic, I always knew I was supported the whole way through," she said.
Aligned with a second Victorian lockdown, Wallace was sent into have a second arthroscope on her injured knee to hopefully try and reduce some of the pain and swelling that was still going on.
"At this point in my career I had played 14 minutes of basketball in 3 years, giving so much to rehabbing my knee, unsure of how much more I could give," she said.
Having considered retirement, with no confidence in her body anymore, Steve Hawkins was called upon for advice and guidance after the procedure.
A crucial part of the journey was the "open and honest" conversations the three of them would have on an ongoing basis about where Wallace was at and how she was feeling. She was always assured no matter what decision she wanted to make around her rehab, the VIS would continue supporting her.
"We were honest and transparent with Kristy from day one," Hawkins said. "When she asked us whether she would play again we answered honestly – we didn't know. But we also didn't know that she wouldn't play again either."
Wallace decided to give it one last go.
The "hardest worker"
Wallace got to work. For most of her rehab she would spend 5-6 days a week, training in the VIS gym.
King and Wallace developed a unique relationship, where they would constantly push each other to "learn more" and keep things exciting, especially given how hard she attacked her training.
They would always ensure that things were taken "one step at a time" and never looked forward more than a few weeks, adjusting based on how she was responding to the training.
Together they set three simple goals; "Enjoy human movement, get strong and try to enjoy basketball."
In the gym, Wallace is "determined" and one of the most "impressive" athletes that King has had the pleasure working with. He admits that there were often times he had to watch through his fingers as she pushed herself beyond what he believed was possible.
"I've honestly never seen an athlete do some of the things she has done in the gym," King said.
Whilst King did the strength and conditioning programming, Hawkins was always on hand to provide clinical input and help, and to collaborate with progression planning and testing.
"They've [King and Hawkins] guided me and given me the best advice that I will carry with me throughout life," Wallace said. "They're incredibly hardworking, intelligent, reliable and most importantly just great humans."
The success of the work that Hawkins and King have been able to achieve with Wallace, is entirely reliant on the truly collaborative approach to her rehab. But ultimately Wallace is the person who has done all of the work, felt all of the pains, and managed all of the doubts and frustrations.
"Any success that she has, is her success, not ours." Hawkins insisted.
Image: Wallace completes training at the VIS gym under the watchful eye of Ben King.
870 days later…
There came a moment in time where it was no longer possible to keep Wallace on the side-lines, she had been progressing in the gym, training consistently on the court and her knee was responding to everything that was thrown her way.
One element in the VIS' 'return to sport testing' is repeated single leg squats to the point of failure.
"60 reps is a good score, 80 is excellent, 90+ is outstanding." Hawkins said. "Kristy did over 200! The most I have ever seen an athlete do."
May 10, 2020 – Wallace ran out on court again for the first time in 870 days.
"As terrifying as my first game back was, I was able to find that enjoyment," Wallace said.
After successfully getting through a modified season with the Melbourne Tigers in the NBL1 competition, Australian Opals Head Coach Sandy Brondello selected Wallace for the 2021 FIBA Women's Asia Cup.
With a large amount of fear weighing on her shoulders, Wallace was unsure if she was ready to pull on the green and gold jersey.
"Given everything Kristy has been through, she often faced significant fear of getting back on the court and getting re-injured," King said.
Being an Opal was a childhood dream for Wallace, as she recalls the memories of her younger self in awe as she watched the Opals on TV.
"I made the decision to go, and I'm really glad I did," she said.
King and Hawkins admit that watching her achieve her dreams and aspirations after a battle that not many people are tough enough to face is truly inspiring and a "testament to the type of person she is."
But King insists that whilst seeing her play basketball at the top level again is incredible, he believes the real success has been the journey of self-discovery that she has been on.
"I think the gratification comes from seeing the progress along the journey, being part of a collaborative, innovative and ultimately successful team, and watching someone discover the best version of herself."
Chasing her dream
One of the unique factors about the VIS is the collaborative approach used by the inter-disciplinary teams, providing leadership to talented Victorian athletes to excel in sport and life. A commonly used phrase in high performance sport, 'it takes a village to raise a champion,' is certainly the case in the story of Kristy Wallace.
Whilst Wallace's story of vulnerability, perseverance, and hard work, is a good one. It's not finished yet. She still has so much to contribute to the world, either in high performance sport or outside of it.
"I've learnt that it's important to be your true self, strive to be better, and help others do that too."
A key learning during her journey, is that she will never measure herself as a person based on whether or not she does or doesn't achieve her "impossibly hard" goals that she's set for herself.
"It's important to grow from hard experiences and use them to discover what is really important in life. For now, I continue to chase my dream to be an Australian Opal and play at the Olympic Games."
Recently Wallace took out the WNBL 2021/22 Sixth Woman of the Year, after returning to her first full WNBL season with the Southside Flyers. Now she's been called up for the Atlanta Dream WNBA Training Camp.