Archery Australia (AA) and the Victorian Institute of Sport (VIS) are excited to announce a new program partnership to deliver an Archery performance program to nationally identified athletes in Victoria. The program will focus on preparing selected athletes for competitions across all Olympic and Paralympic disciplines.
The VIS Archery Program aims to create an optimal training environment for athletes competing at an international level, along with supporting emerging junior athletes with the potential to achieve success on the world stage. Working in partnership with Archery Australia, the VIS archers will be provided with elite coaching and support services to achieve this.
All program appointments and athlete selections will be aligned with the national athlete pathway and current Archery Australia programs. The program will be a collaborative effort between the VIS, AA and Archery Victoria (AV).
The launch of the program is the first of several new initiatives that will form the foundation of Archery Australia's Brisbane 2032 Strategy to ensure Australia is well represented on the podium at the 2032 Brisbane Olympic and Paralympic Games.
Archery Australia CEO Rick Hastie is thrilled about the support for the new program.
"This initiative wouldn't be possible without the support of VIS, AIS and Archery Victoria and it is great recognition of the work our athletes and coaches continue to dedicate to Archery both in Victoria and nationally," said Hastie.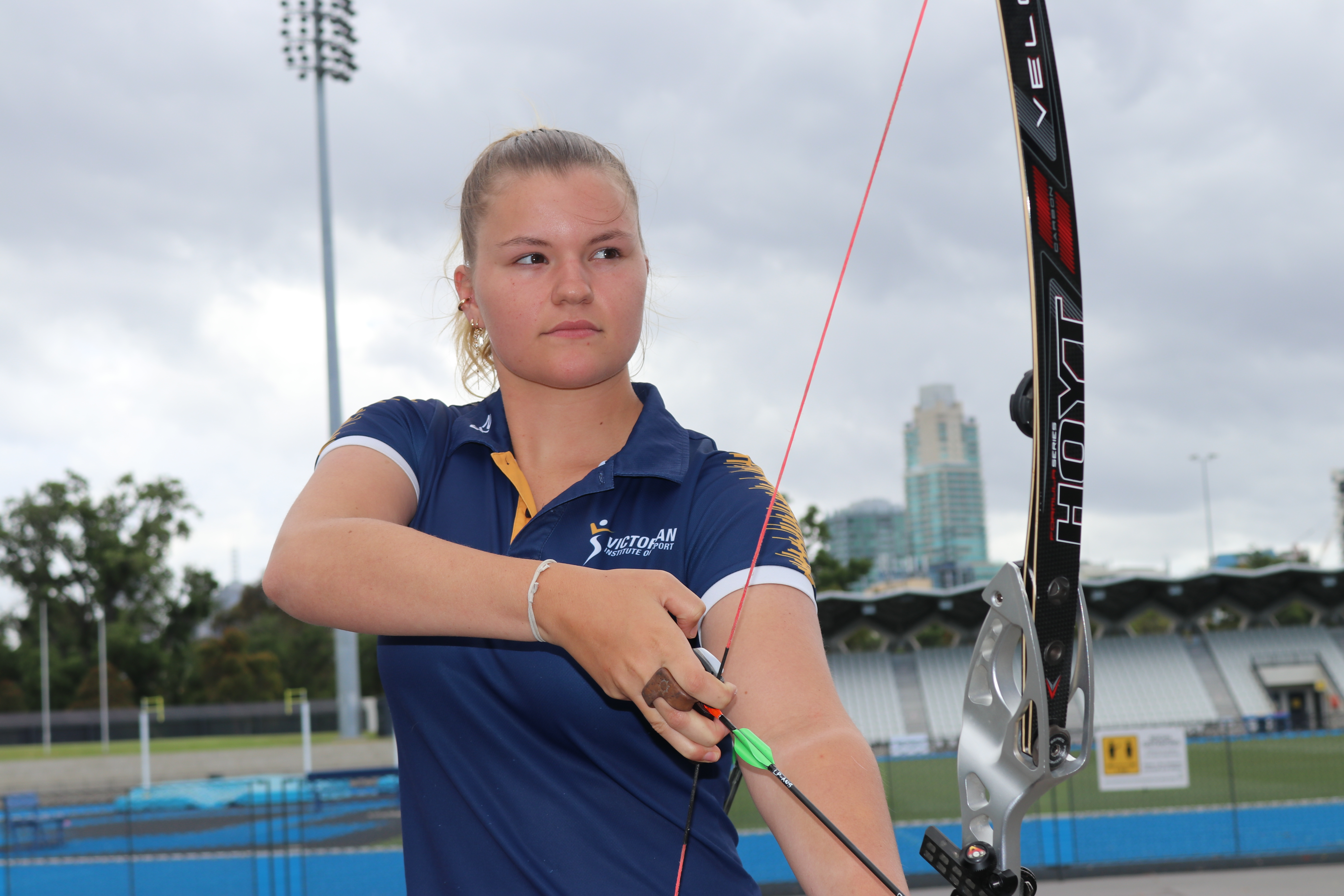 Image: Laura Paeglis has come through the VIS' Future Talent program. Credit: Victorian Institute of Sport
Archery Australia High Performance Manager Graeme Rose is delighted for the opportunities the program will provide emerging archers and coaches.
"This is an exciting new initiative for Archery in Australia and will provide a clear pathway for athletes and coaches in Victoria who aspire to represent Australia at Olympic and Paralympic level," Rose said.
Dave Crosbee, Performance Director at the Victorian Institute of Sport (VIS) is equally as excited for the future of Archery in Victoria.
"The VIS has had a long history of successfully supporting Archers through our Individual Athlete Scholarship Program and Future Talent Program, leading to results such as the Bronze medal at the 2016 Rio Olympics in the Team event," said Crosbee.
"We are excited to be partnering with Archery Australia to expand this support into a full partnership program to provide enhanced support to the Victorian based categorised athletes looking towards Paris 2024 and developing a strong platform for L.A. 2028 and the home Games in Brisbane 2032."