Athletes returning from the Tokyo Olympic Games have dialled into virtual classrooms across Victoria these past couple of weeks, as part of the Victorian Institute of Sport's 'Be Fit. Be Well' program.

Ten Victorian Olympians, including Rowie Webster (water polo), Tess Lloyd (sailing), Jemima Montag (race walking), Brooke Stratton (long jump), Sinead Diver (marathon) and Anabelle Smith (diving), have shared their stories and experiences from Tokyo with 19 schools in Melbourne and regional Victoria.

Olympian and Paralympian, Melissa 'Milly' Tapper, who is in Tokyo preparing for the Paralympic Games, also participated in live video chats from Japan.
"Getting to present to schools while in Japan gave me the perfect outlet to fill the time and reconnect with back home," Tapper said.
"Seeing the excitement on the kids faces and how many questions they had about the games and my preparations for the Paralympics was awesome".
Tapper presented to Arnolds Creek Primary School (Melton West) last week and after her talk the students had been posting to their online learning portal non-stop since logging off, according to teacher Kaitlyn Foley.
"The session with Milly was fantastic!!
"She was so engaging and able to set the conversation to the maturity level of our students. Our teachers and students have been speaking all about the session and our Grade 5/6s are counting down the days until the Paralympic competitions begin - with Milly being the star athlete they want to be following," said Foley.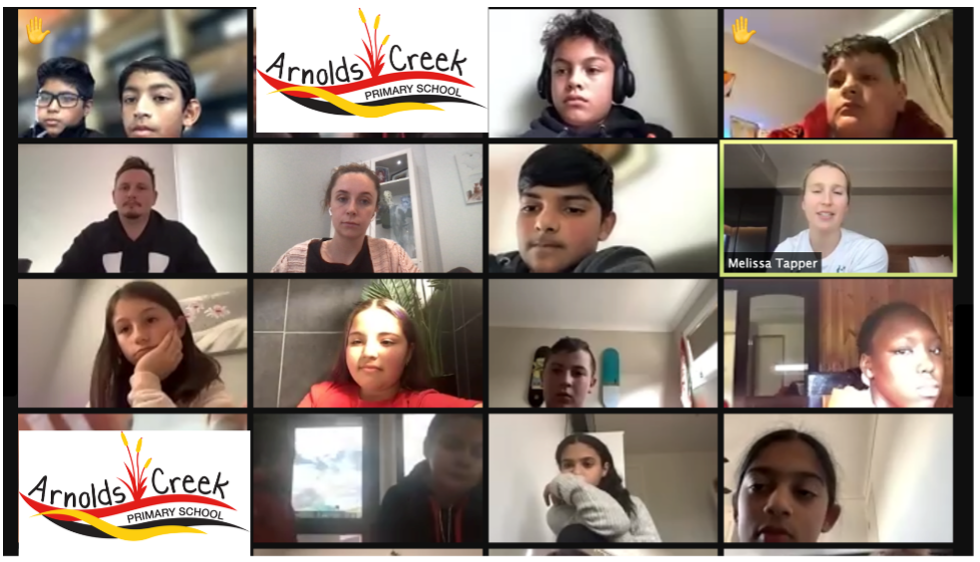 Students at Arnolds Creek PS listening to Milly Tapper's story. (Pic Credit: Supplied)
Tapper is Australia's only Olympian and Paralympian and she has spent the time between the two Games in Mishima, Japan.
Olympic race walker Jemima Montag kept herself busy after a sensational performance in gruelling conditions in Sapporo, Japan in the women's 20km race. From her hotel quarantine she inspired hundreds of students and said that connecting with the kids and sharing her Olympic experience is a huge part of her "WHY" factor.
"It has been so heart-warming to see how excited they (the students) get to hear from an Olympian and ask questions," Montag said.
"I'm starting to lose my voice because I've done so many talks this week, but it's helping the time fly by in hotel quarantine!".
The Victorian Institute of Sport's 'Be Fit. Be Well' program encourages primary and secondary school students to stay active and lead a healthy lifestyle.
"The 'Be Fit. Be Well' program has been running for more than 20 years and helps promote physical activity and its links to wellbeing," said VIS Community Programs Coordinator Camilla Blands.
"The program features live virtual classroom chats and pre-recorded presentations with elite athletes from the Victorian Institute of Sport.
"Key topics are tailored for specific school year levels and include motivation, resilience, goal setting, coping with pressure, health and nutrition."
The 'Be Fit. Be Well' program is free for government schools, with funding from School Sport Victoria (SSV). Non-government schools can also participate for a fee.
---
To register interest in the 'Be Fit. Be Well' program, please call: (03) 9425 0000 or email reception@vis.org.au. For more information, click HERE