Jennings, now 49, is a two-time canoe world champion and Paralympic silver medallist – only falling 0.003 seconds shy of gold. Her sights are set firmly on the Tokyo Paralympic Games later this year, and life has well and truly moved beyond that cold Melbourne morning all those years ago. But to understand the Amanda Jennings that will line up in Tokyo, we must reflect on the trials of yesteryear, and the path she traversed on her way to finding the sport she now loves with a passion.
That morning in 1989 is the moment Jennings' story begins because that morning she dislocated her right knee. Something as simple as one bounce too many proved to be the unravelling of her young adult life. After multiple surgeries the knee joint and ligaments broke down, and she began to lose the use of her lower leg, her brain no longer able to assert control. She now faced the reality of navigating the world with a neurological nervous system disorder, namely Complexed Regional Pain Syndrome.
Initially, Jennings found this to be a challenging reality.
"During that period, I became addicted to prescription drugs, and with anxiety and depression I found it difficult to leave my house," she says. "It was difficult and frustrating to watch my family and friends move forward with their lives. I was falling into a black hole."
This outlook persisted for many years. Eventually, this feeling became an overwhelming presence. Jennings decided her only option was to "exit stage left and end my life."
"I felt like a burden to the people around me and that they deserved better," she says. "[It felt like] if I wasn't around, they could have moved on with their lives."
Thankfully, one of Jennings' close friends realised what she was trying to do. She stayed with her, talked to her, and asked her to keep fighting, to never give up.
This was a major turning point for Jennings, who came to the conclusion that if she was to move on with her life, she had to make a 'fork in the road' decision. That decision was to amputate her leg.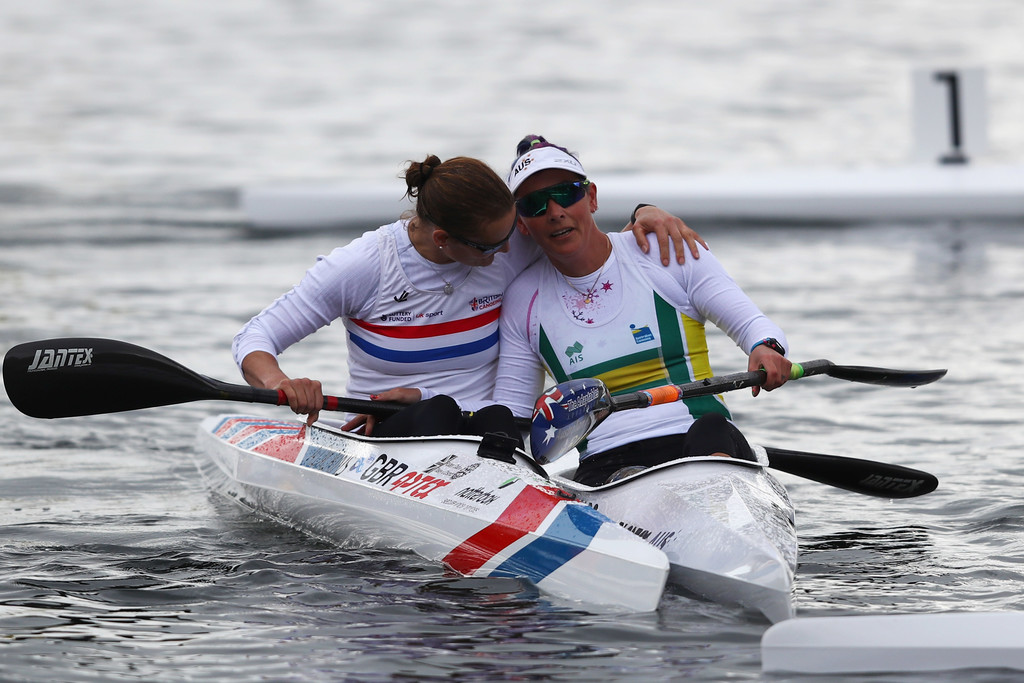 "The decision was probably the only option I had left, and it gave me my life back," she says. "I was able to live again, and not just exist. It has been a big learning curve and I've had to become quite adaptable."
This transformation was not only liberating for Jennings' personal life, but it also gave her the freedom to pursue challenges that she had never previously considered possible. One such endeavour was the Murray Marathon, a multi-stage canoe race along the famous river bordering Victoria and New South Wales, which she only entered after a bet with a friend.
"That's where it all started," she says. "I think after the first day I was really questioning what I had got myself into, and that I had taken on a bit too much. But we got through it, and finished the race."
Although she may not have realised it at the time, this was the beginning of Jennings' career. Over the next few years, as she began to reintegrate herself into the "outside world", she decided to take up the sport at a serious level.
With her newfound passion, and after years of mastering the craft, Jennings found herself in the green and gold at the 2015 para-canoe world championships. To her astonishment, she crossed the line in the gold medal position.
"When I actually crossed the line, I hadn't realised that I had won. It wasn't until our high-performance director came down onto the pontoon and told me that I had won," she says. "It was very surreal, and I don't think it sunk in until I got home."
Over the next two years, Jennings continued her reign at the pinnacle of her event. In 2016 at the Paralympic Games, she only lost gold in a photo finish separated by 0.003 of-a-second. In 2017, however, she bounced back in emphatic style, restoring herself as world champion.

And, although 2019 did not go to plan out on the water, her Tokyo dream is unwavering.
"I think every athlete hopes to be standing in that number one spot on the podium at the end of the day," she says. "I will give it everything I've got and then some, and I hope to make my country proud."
And, lastly, her life philosophy: "Anything is possible."
by Jaryd Clifford, Paralympian