Mother's Day celebrates motherhood and the contribution of mothers in society.
Mums are the ultimate role models when it comes to courage, resilience, tenacity and strength of spirit. They teach us how to dream bigger, work harder and have faith in ourselves.
Today we focus on two of our fabulous Mums at the Victorian Institute of Sport who balance their roles as mothers with their careers as elite coaches.
Sharelle McMahon - Victorian Institute of Sport, Assistant Netball Coach
Sharelle McMahon was one of Australia's most successful and enduring netballers.
In total, she won two gold and two silver medals across four Commonwealth Games. She carried the flag for Australia at the Delhi Games, was a part of three Netball World Cup teams for two wins and played for Australia 118 times, 12 of those as captain in an international career spanning 14 years. She finished with 2520 international goals at an average of just over 21 per Test.
She was a fixture in the goal circle for Melbourne Phoenix for 11 seasons, including four as captain. She also led the Melbourne Vixens from their inaugural season in 2008, leading the team to their first championship win in 2009.
Sharelle ruptured her Achilles tendon in an ANZ Championship game in 2011, forcing her withdrawal from the 2011 Netball World Cup. Considering her future she briefly returned to the court before taking time off for the birth of son Xavier in 2012.
She returned for one more season and in doing so broke yet another glass ceiling – she was the only Australian mum to play at the elite level in the ANZ Championship. McMahon retired in 2013 and further expanded her family in 2015, welcoming the arrival of her daughter, Ruby.
After finishing her career as an athlete, she started doing some specialist coaching with the Melbourne Vixens, and is now the Assistant Coach. Sharelle shared her views balancing coaching with parenthood.
"I think that anyone who's a parent or a mum knows that it's a juggle when you try and fit in work and everything else that goes into life when you're looking after little people as well. But for me that's just kind of been a part of my life in everything that I do.
I've been incredibly lucky with the Vixens, they have been so supportive in me coming back to playing and now coaching with little kids. I think bringing kids to training adds something really nice to the group.
I think there needs to be an acceptance and a push to get more females involved in leadership positions in lots of different areas, certainly in coaching. I think it's something you can balance nicely as you move into motherhood. If you've got the right attitude and the right support network around you it can be done."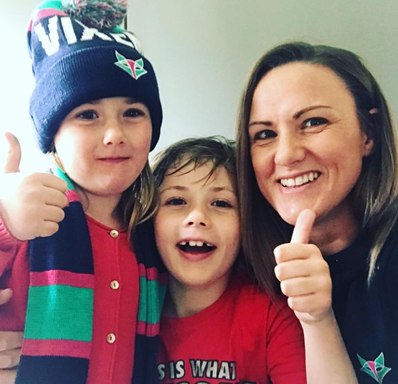 Stacia Strain (nee Joseph) – Victorian Institute of Sport, Women's Hockey Head Coach
Stacia Strain, who played 42 games for the Hockeyroos is the Head Women's Hockey Coach at the Victorian Institute of Sport, but most importantly she is Mum to Lottie and Finn.
A qualified physical education teacher, Stacia is now in her fifth year as head coach of the Women's Hockey Program. Her role is to provide an elite daily training environment that enables her hockey athletes to not only achieve sustained national and international success on the pitch but also have the opportunity to excel in life away from it.
Stacia has a long and highly regarded history with hockey in Australia – she broke into the Australian women's national team in 2009 and played in that year's Champions Trophy, where the Hockeyroos finished runners up. She also competed at the Oceania Cup and was also part of the 2012 Australian Women's Hockey Squad for the London Olympics.
A long term VIS scholarship holder (2005 -2014), Stacia Captained the Victorian Vipers to a gold medal at the 2012 Australian Hockey League tournament and a bronze medal finish in 2015.
Stacia has coached extensively, holding instrumental positions at several clubs throughout The Netherlands including Amsterdam Hockey Club, HIC Hockey Club and Qui Vive Hockey Club. She currently holds the position of co - coach of the Victorian U18 Girls Team and Emerging Vipers, a program to prepare and push athletes towards high level State teams, VIS Scholarships and National Squads.
Stacia thought she might have to give coaching away when she fell pregnant with her daughter in 2017.
"I did for sure. I think because there wasn't another that had done it before me. So I kind of didn't know of anyone who had done it and it hadn't been publicised," she said.
However, the following year Stacia was one of eight high performance female coaches who took part in the AIS's development program during the Gold Coast Commonwealth Games. It was only there, among other women in her position and with mentors including Ellen Randell (rowing) and Tracey Menzies (swimming), that she realised she can have her coaching career and grow her small family too.
"Honestly, I think mentoring and the role models and the networks that you create with other people, not just even women, just other males as well, (are most important)," said Joseph, who has ambitions to be part of the national hockey program in the next five years.
"The tactical, technical stuff I think you get that with experience and to be honest I feel like I've got a lot of that anyway from my playing and I've never doubted that.
"It's more whether you can manage it with everything else going on in your life."