The global theme for International Women's Day in 2021 is 'Women in Leadership: Achieving an Equal Future in a COVID-19 World', and so it is pertinent to celebrate some of our leaders at the VIS. There is no better place to shine this important spotlight than on our most senior female leaders, our Chairwoman Nataly Matijevic, and our CEO Anne Marie Harrison.

VIS Chair, Ms Matijevic, joined the VIS Board in 2017 and not long after, she stepped into the role of Acting Chair following the departure of Nicole Livingstone OAM to lead the AFLW. Ms. Matijevic was then appointed VIS Chair in March 2019.
Together with the VIS Board, over her first term, the VIS developed our strategic plan, reviewed, refreshed, and updated the VIS values, vision and mission, whilst confirming the core business of the VIS in supporting our high performing athletes
Ms. Matijevic has more than 20 years of expertise gained in senior roles in government, politics, communications, and stakeholder management. She previously headed the Melbourne office for a global strategic communications firm and spent two years working as a senior consultant in the Middle East.
More recently she has worked with Plenary Group in leading Communications and Stakeholder Relations for two major transport infrastructure projects - the High-Capacity Metro Trains Project and the Western Roads Upgrade Project.
Ms. Matijevic says it is a great privilege to lead the VIS Board in a year where the Institute is celebrating its 30th anniversary whilst supporting athletes during the COVID-19 pandemic.
"We are all living through unusual times with so many unexpected and necessary changes to the way we live and work but I am very proud of our VIS athletes, coaches and staff that have taken on this challenge with energy and their usual 'can do' attitude."
"It is truly inspiring to see that despite all this, our athletes remain focused on achieving success in sport and life".
Our CEO Anne Marie Harrison, affectionately known as "AMH", is a world recognised expert in high performance sports management. She was once ranked 14th in Scotland's Power 100 list, becoming the founding chief executive officer of that country's national sports institute in 1999. Under her stewardship, the Scottish team had its then most successful Commonwealth Games in Melbourne in 2006.
Later in 2006, Harrison succeeded the VIS' inaugural Executive Director, Dr Frank Pyke.
In its most simple form, Anne Marie's job is to help Australians win medals; ''My job is to get the right people, with the right technical experience and knowledge, and to empower them to do the best job possible with the athletes.''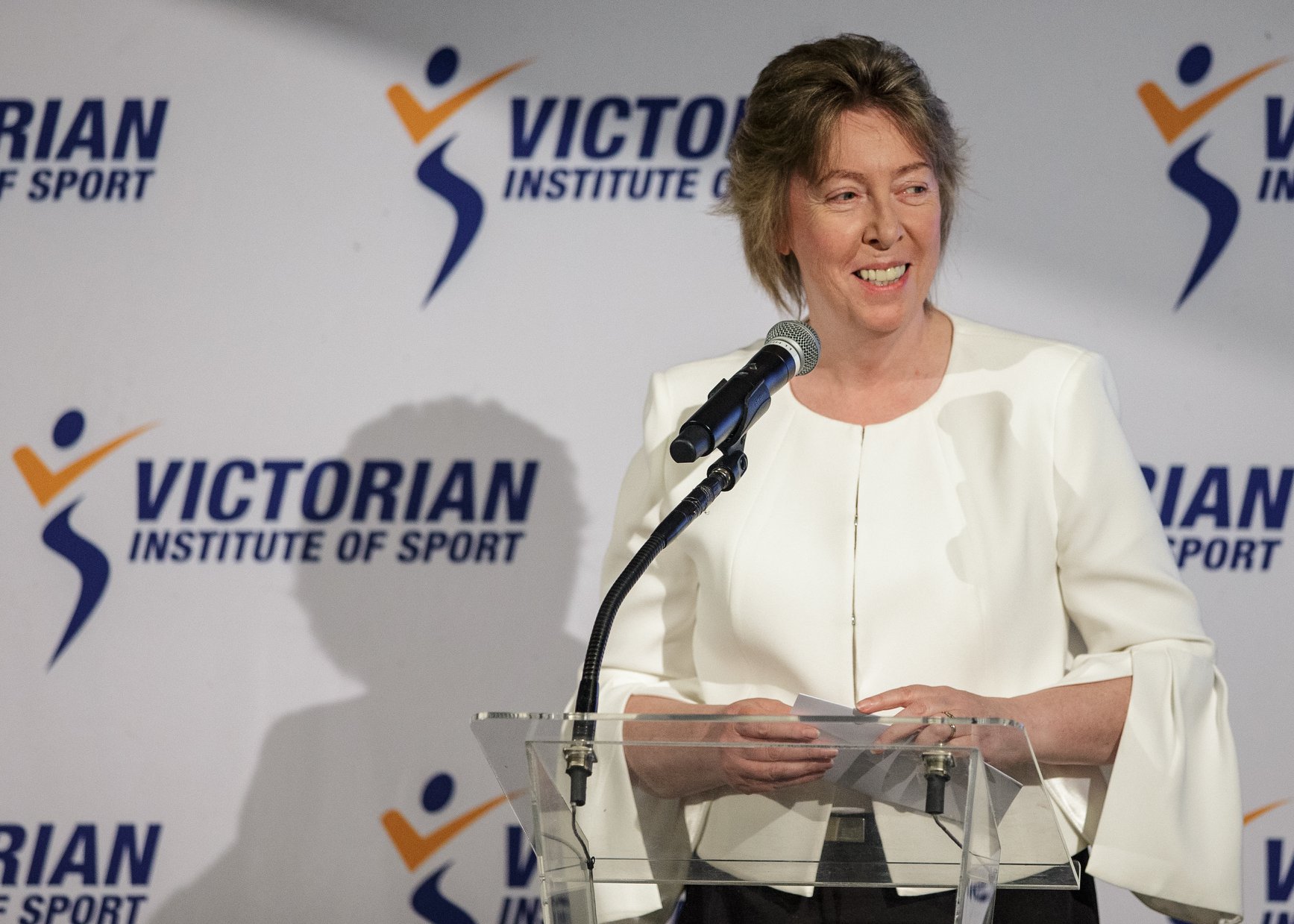 Image: Anne Marie Harrison presents at the 2018 VIS Award of Excellence
During her 15 years at the helm of our esteemed high-performance sports institute - a rare thing in Australian sport - she has overseen the creation of the 'VIS family'. A one-of-a-kind culture within the organisation that is recognised by every athlete and staff member - a unique sense of community amongst high performing Victorian athletes across a range of sports.
This enviable culture has developed over many years via her commitment to recruiting the right personalities for the VIS, the wrap-around of services that we provide our athletes and the cross cultivation of sports, plus a genuine care for colleagues and athletes.
Her management approach balances empathy and inclusiveness with assertiveness and drive. She displays confidence and an orientation towards results, and recognises that success is the result of effective teamwork, borne of the efforts of many people working together to accomplish a common goal.
In 2020, the COVID-19 pandemic shone a light on the ability of leaders to respond to its enormous and interlocking challenges. Times of crisis can foster innovation and illumination, and Anne Marie evidently rose to the occasion.
Anne Marie, and the VIS "Taskforce", carried out an effective and inclusive COVID-19 response plan, from the highest level of decision-making through to frontline delivery at the check-in desk. Her commitment to safety and advancing the interests of the whole organisation helped to raise spirits and keep everyone looking toward the future.
Her efforts and leadership were applauded and appreciated by others in the industry, including VicSport CEO Lisa Hasker;
"Anne Marie provided valuable support to the SSA network around elite sport and training protocols during the COVID 19 lockdowns. Her advice and support was vital for SSAs who may not have HP staff and were getting enquiries from parents and athletes about the rules around COVID."
A strong and principled leader, she is proud to oversee a decidedly balanced organisation as far as gender is concerned; the athlete ratio is 50-50, Ms Matijevic is Chairwoman, and there are five women on the Board of seven, including former Australian Diamonds Coach Lisa Alexander and Aboriginal TV personality and educator Shelley Ware, lawyer Amelia Lynch and RFC Director, Tina De Young.
Female leadership matters and the benefits of having women in the workplace are well documented; from professionalism and collaboration, to a supportive management style and cooperative problem-solving, women possess skills that make them invaluable assets.
At the VIS, we are proud of the many women who have ascended into leadership roles - past, present and future – and who in turn have become positive role models to girls and other women. Happy International Women's Day!