The Victorian Institute of Sport continues to enhance secondary student learning on sport science and nutrition, as part of our VIS Advancement Series. Meet two of our presenters, Elaine Bo and Victoria Brackley who are sharing their knowledge on the work they do with Victoria's best athletes.

Elaine Bo is currently the dietitian for Shooting, Rowing and the Individual and Future Talent Programs at the VIS. In 2014, Elaine completed her Masters of Dietetics at Deakin University, and two years later obtained accreditation as a Sports Dietitian. Elaine has been at the VIS for over five years now and wants to share her knowledge with Victorian school students.
VIS: How have you adapted to presenting online?
EB: Presenting online is definitely different to being in front of an audience. Without the non-verbal cues and facial expressions, we have had to adapt our presentations to keep the students interested, involved and engaged. While there is a lot of content and information shared in the Nutrition Advancement sessions, we have allowed lots of time for discussion and questions too. We have also embedded various interactive components throughout the sessions to engage students, including 'kahoot!' quizzes to test their knowledge and understanding.
VIS: Could you please give an example of how you draw on your experience and use real athlete stories, combined with a variety of practical activities to engage the students?
EB: Sports nutrition theory is best coupled with practical athlete examples! It puts things into perspective and highlights the reality of the concept we are explaining. In one of our presentations, we explain the theory of eating before exercise (what and when), followed by food examples, and finally share how specific real life athletes from various sports might apply this. For instance, what a distance runner eats before a race is quite different to what a table tennis player eats before a match. We also use athlete case studies and encourage the students to discuss what they would advise in a certain situation, based on what they have just learnt.
Another one of our experts you may hear from is PhD scholar Victoria Brackley. Victoria has been at the VIS for over four years now and works closely with VIS Lead Biomechanist, Dr Elaine Tor. Victoria is currently a PhD Candidate in Swimming Skill Acquisition/Biomechanics at Victoria University, exploring the transfer between drills and competition performance in elite freestyle swimming. She is keen to share her experiences as well as help educate school students in sport science.
VIS: What is it like presenting to students virtually?
VB: Presenting through a screen has definitely been a new experience. Having said that, I've found students have really adapted and engaged to the new form of learning and we've been able to have great discussion around the different activities we present.
VIS: Could you please give an example of how you draw on your experience and use real athlete stories, combined with a variety of practical activities to engage the students?
VB: The experiences I have encountered working within the VIS swimming program under Dr. Elaine Tor throughout my PhD has given me an opportunity to share small case studies of how a Sport Scientist supports the coach and athlete in order to improve performance. For example, in one of the biomechanics activities presented, we are able to show students how we analysis technique and provide feedback to both the coach and athlete.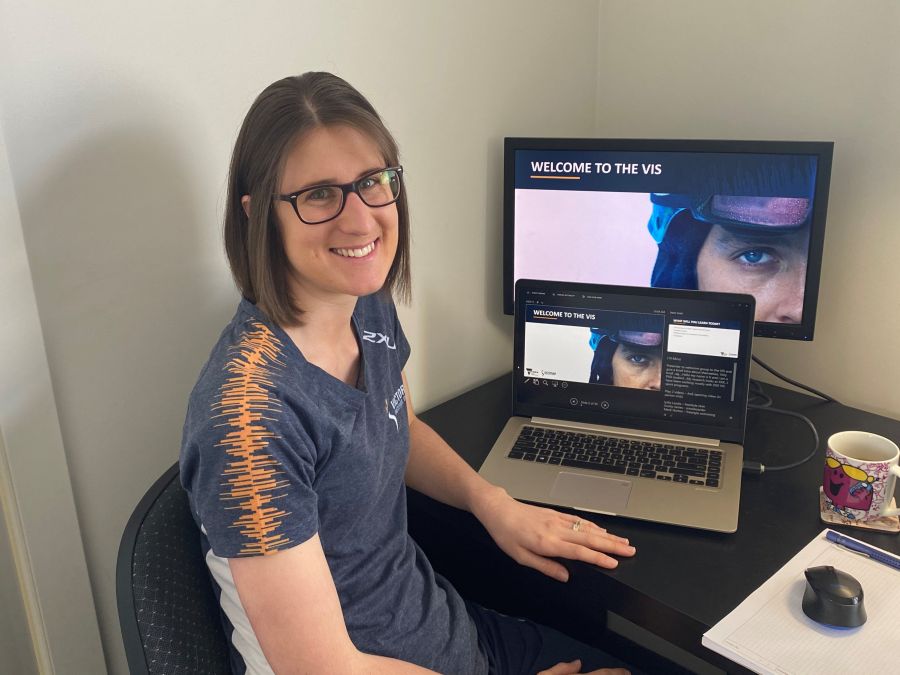 Image: Victoria presents to students from her home office.
---
With the support of the Victorian Government, The Victorian Institute of Sport Advancement Series offers Victorian Government secondary school students the opportunity to learn from VIS experts in the areas of nutrition and sport science, covering key concepts and how they apply to everyday life and elite sport.
Is this something that interests you or your school? Find out more HERE.
Now is your chance to hear from one of our leading experts like Elaine or Victoria, click HERE to book your school into the VIS Advancement Series now.