Take the humble burrito that is now more popular as a burrito bowl, the sushi hand roll that is now a sushi bowl. Even the traditional smoothie no longer requires a straw when served as a smoothie bowl with a spoon.

Whether it's a poke bowl, noodle bowl or salad bowl, we think it's a great way to make a balanced meal. Some may even say it tastes better eaten with a fork from a bowl.
Here's five tips our Victorian Institute of Sport nutrition team have pulled together on how you can build a balanced bowl.
1.
Start with a carb base, such as brown rice, soba noodles, quinoa, couscous or any grain really. The amount you have here will depend on your training and energy needs.
2.
Add as much colour as possible from veggies. Think here about the colour, texture & presentation. Consider spinach leaves, grated carrot & beetroot, cucumber ribbons, diced tomato, slices of radish, edamame beans, shredded cabbage, cauliflower & broccoli florets, finely sliced spring onion, oven roast vegetables. The options here are endless. You could even mix it up with some fruit, sliced mango, peaches, apple or mandarin segments.
3.
Top with your favourite protein…a piece of salmon, chicken strips, sliced beef or lamb, prawns, diced tofu, falafel balls, beans or even hard boiled eggs.
4.
There's always room for some good fats…slices of avocado, a sprinkling of nuts or seeds or drizzle of olive oil.
5.
Don't forget flavour. Some herbs, spices, salsa, dressing, vinegar or a wedge of fresh lemon or lime.
IMAGE: HealthyFoods.com | John Paul Urizar
---
Seared salmon bowl with ponzu sauce
Here's one of our favourites to get you started, sourced from HealthyFood.com
Ingredients:
Ponzu sauce
· ¼ cup lemon juice
· 1 tablespoon rice vinegar
· 2 tablespoons tamari or reduced-salt soy sauce
· 1 small red chilli, finely sliced
Bowl
· 2 teaspoons olive oil
· 4 x 150g salmon fillets, sliced into 3 pieces each
· 120g soba noodles
· 1 tablespoon sesame seeds, toasted
· 1 mango, finely sliced or 'fanned'
· 1 cup podded edamame
· 1 small Lebanese cucumber, cut into thin ribbons
· 2 small carrots, cut into thin ribbons
· ¼ small red cabbage, finely sliced
· 100g rocket or spinach leaves
· 2 toasted nori sheets, cut into triangles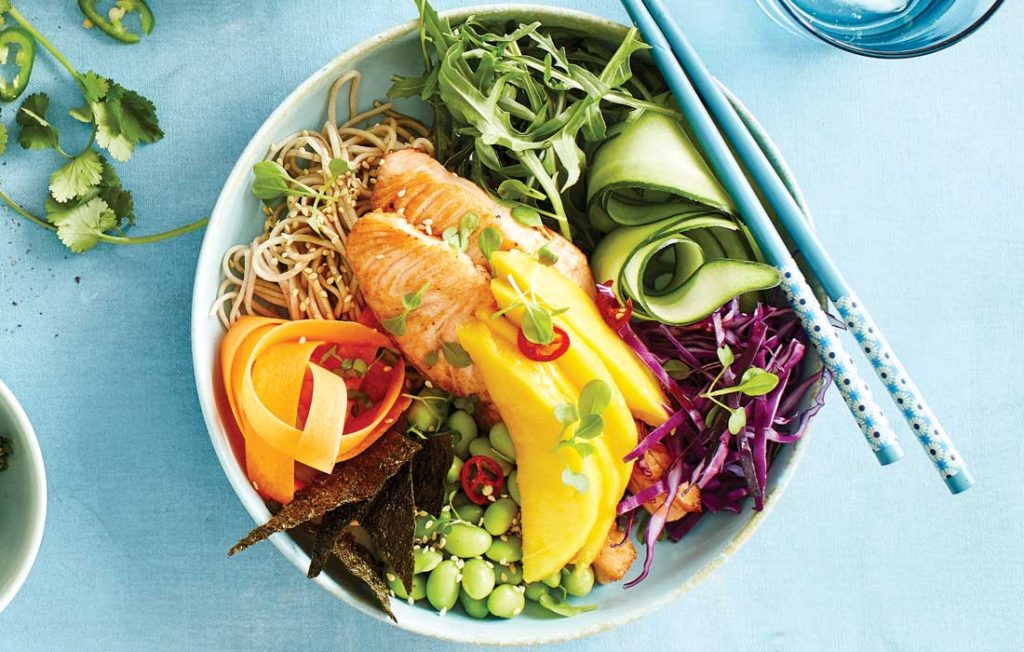 Instructions:
1. To make ponzu sauce, whisk together lemon juice, vinegar, tamari and chilli.
2. Heat a non-stick frying or grill pan over medium heat. When hot, drizzle with the oil and cook salmon for about 1 minute each side, or until browned and lightly cooked. Cook noodles as per the packet instructions. When cooked, toss with sesame seeds.
3. Evenly divide and arrange all ingredients in bowls, and drizzle with sauce