Easter means different things to different people. For many it's a religious celebration, for some a chance for a bit of down time and for others it's an opportunity to spend time with family and friends.
Like many other holidays on our calendar, we often associate specific foods with the Easter Holiday. Whether it's the obvious easter eggs and hot cross buns or a special family meal that you share across the Easter weekend, don't under-estimate the power of this.
Over three decades of research has shown that regular family meals can offer a variety of benefits including physical, mental and emotional. The Family Dinner Project suggests that benefits include the obvious nutritional ones, like more fruit and vegetables, and less fast food consumed; but their research also shows increased self-esteem, lower risk of depression, greater sense of resilience, better academic performance and a whole host of physical health benefits.
So, what are you waiting for? Get your family together this Easter for a shared meal.
While VIS Diver Anabelle Smith, won't be spending Easter with her family this year, she knows the benefit of family meals.
"Family meals are important to me because I get to spend time catching up with loved ones and enjoying delicious, healthy meals together. My parents always cook meals that remind me of my childhood and are hearty and wholesome".
Before heading up to Brisbane recently for competition and preparations for World Cup, Anabelle had her family over for dinner.
"I asked Dad to make his lasagne that he made regularly when I was a kid and we enjoyed family dinner together."
However, if you're more of a baker than a dinner party host, it's worth noting that it's not just the meat & 3 veg family meal that offers benefits. For those that are keen to get in the kitchen this weekend for some Easter baking, go for it.
Research suggests that baking for others, can be accompanied by a host of psychological benefits, including stress relief, a way to express emotions, practice mindfulness and increase feelings of well-being.
So why not spend some time making a batch of hot cross buns this weekend.

---
Maggie Beer's Hot Cross Buns
Here's one of our favourite Hot Cross Bun recipes to get you started, sourced from MaggieBeer.com.au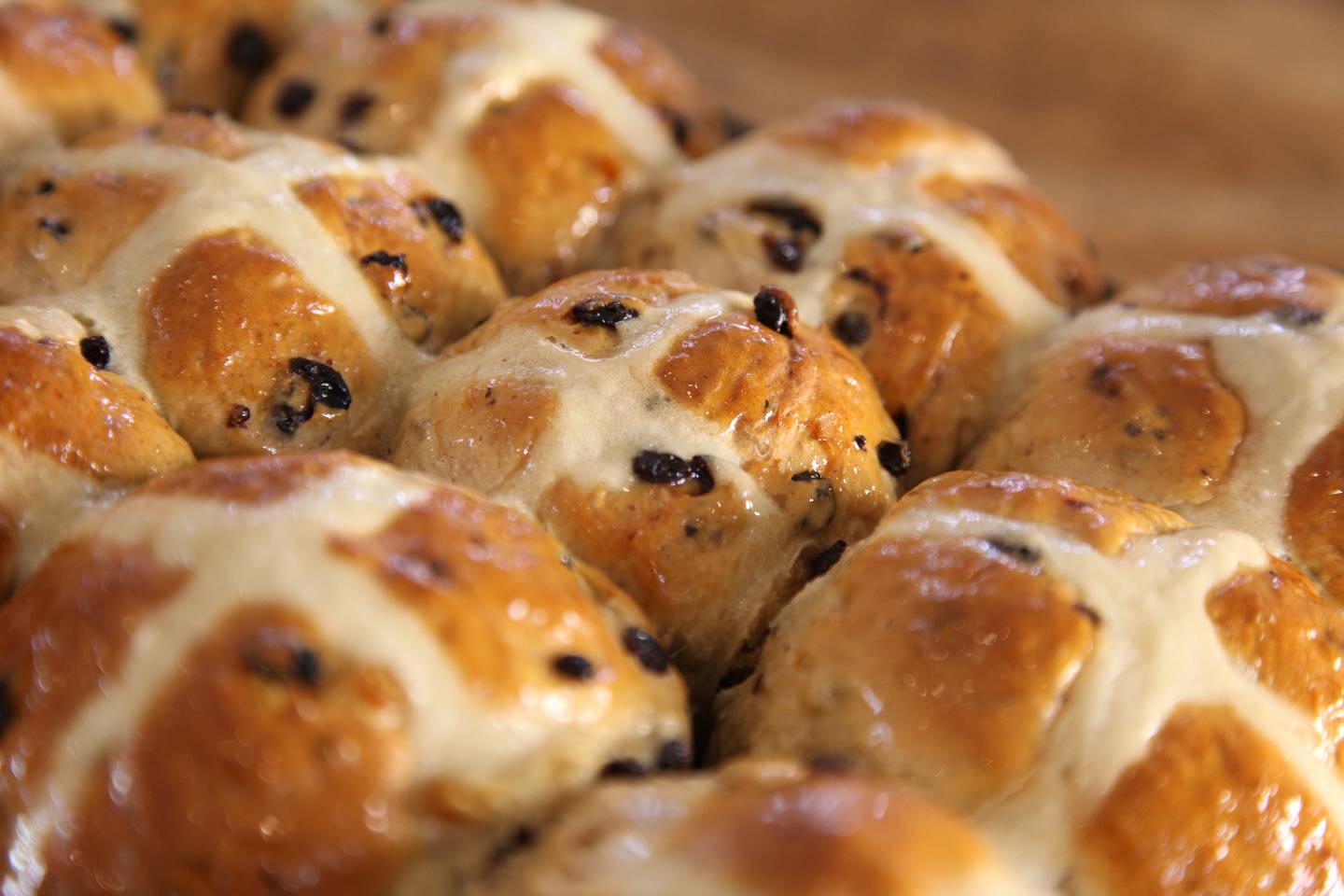 Ingredients:
Dough
- 4 1/2 cups plain flour
- 2 x 7g dried yeast
- 1/4 cup caster sugar
- 1 1/2 tsp mixed spice
- pinch salt
- 1 1/2 cup currants
- 40g butter
- 300ml milk
- 2 eggs lightly beaten
- 4 tbsp water
Glaze
- 1/3 cup water
- 4 tbsp apricot jam
Method:
Combine 4 cups of flour, yeast, sugar, mixed spice, salt and currants in a large bowl.

Melt butter in a small saucepan over a medium heat and add the milk. Heat for 1 minute, or until lukewarm. Add warm milk mixture and eggs to currant mixture.

Use a flat bladed knife to mix the dough until it almost comes together, then using clean hands, finish mixing to a soft dough.

Turn dough out onto a floured surface. Knead for 10 minutes, or until dough is smooth.

Place into a lightly oiled bowl and cover with plastic wrap. Set aside in a warm, draught free place for 1 – 1 ½ hours, or until dough doubles in size.

Line a large baking tray with non-stick baking paper. Punch dough down to its original size. Knead for 30 seconds on a lightly floured surface until smooth. Divide into 12 even portions and shape each portion into a ball.

Place balls onto the lined tray, about 1cm apart. Cover with oiled cling film and set aside in a warm, draught free place for 30 minutes, or until buns double in size.

Preheat fan-forced oven to 170C.

To make the flour paste, mix ½ cup plain flour and 4 tablespoons of water together in a small bowl until smooth, adding a little more water if paste is too thick. Spoon into a small snap-lock bag and snip off one corner to create piping bag. Pipe flour paste over tops of buns to form crosses.

10.

Place into preheated oven and bake for 20 - 25 minutes, or until buns are cooked through.

11.

To make the glaze, place water and jam into a small saucepan over low heat and stir until jam dissolves. Bring to the boil for 3-4 minutes, then remove from heat. Immediately brush glaze over warm hot cross buns.

12.

Serve warm or at room temperature.