Over the last two months they have all appeared as a 'mystery guest' on the VIS cycling program's weekly Zoom sessions.

Since gyms, pools and velodromes shut down in March we have seen numerous inspirational examples of how VIS athletes and staff have overcome the challenges that COVID-19 has presented. The VIS cycling program is no exception and they have engaged legends from cycling but also other sports and industries to teach their athletes about balancing sport and life.
The VIS cycling program has created an exceptional online program for their cyclist that has inspired and motivated the athletes while also encouraging them to focus on their life outside of sport. The program has been led by Head Coach (Track Sprint) Shane Kelly OAM, endurance coach Vanessa Bof and sport scientist Nick Owen. Head Coach Glenn O'Shea (Track Endurance) has also been involved while he transitions into his new role as head coach of the national women's track endurance program.
Although the cycling athletes have still been able to complete their training sessions from home, it has looked a little different than usual. They have competed and trained virtually using the online cycling platform Zwift and even competed in the National Road Series virtual racing event organised by Cycling Australia. VIS Cyclist Graeme Frislie took out the first stage of the competition, which was launched in May.
Image: Graeme trains at the VIS on the Zwift bike.
The VIS coaches felt it was important to use this time to dive into the education on having a healthy balance in life and sport. The VIS motto is Success in Sport and Life and the Institute has pioneered the focus on athlete wellbeing and creating whole athletes with a life outside of sport.
Kelly explained that he believed the most effective way to get the messaging across was to invite special guests into their weekly Zoom meetings. "Hearing a message from a third party that the athletes don't already know can be powerful." He said.
For nearly two months the cycling program's weekly Wednesday sessions have been visited by a 'mystery' guest that has given the athletes new insights and perspectives on life.
The successful former VIS Cycling Head Coach Dave Sanders guested one of the sessions and shared his knowledge and expertise. He spent 26 years at the VIS and has worked with some of Australia's biggest names in cycling - Cadel Evans, Baden Cooke, Simon Gerrans, Simon Clarke and Brett Lancaster to name a few.
Another successful cyclist Sanders' coached was Anna Wilson, by many considered the best female road cyclist in the world in late 90s and 00s. She also guested a Wednesday session and spoke to the VIS cyclists about her career as a successful lawyer and now barrister.
One of the most decorated cyclists in Australian history, Simon Gerrans also appeared as one of the mystery guests. Sharing his experience of a 13 year professional career and becoming the first Australian to win stages in all of the three Grand Tours (Tour de France, Giro d'Italia and Vuelta a España). The former VIS scholarship holder is also a dual Olympian competing in the road races in Beijing 2008 and London 2012.
The VIS cycling athletes also got to hear from Mathew Haymen, who won the 2016 Parix-Roubaux. His victory is as relevant as ever today, as he won the race with preparation only on a home trainer in his garage following a broken arm sustained only five weeks before the race.
VIS track cyclist Conor Rowley said that the Wednesday mystery guests had been "awesome".
"Hearing from cycling legends has been a really valuable opportunity that we probably wouldn't have had if we didn't go into lockdown." He said.
Image: Conor Rowley sprints to the finish line in Tasmania, Credit: Cycling Australia
The 2016 Junior World Keirin Champion added: "They all had incredible messages, which were all really inspiring when we needed it the most after all our racing was cancelled".
The VIS coaches wanted to expose their athletes to voices outside of their sport and invited guests who added different perspectives on sport and life.
Ex-AFL player Lance Picioane shared his experiences with battling anxiety and depression while being in the spotlight of footy. Following his career he founded the youth well-being foundation 'Love me, Love you'. The foundation aims to build emotional intelligence and increase awareness and remove stigma associated with youth disorders, such as mental illness, drug and alcohol abuse and eating disorders.
Last but not least, a mystery guest that the cyclists probably didn't expect was the famous chef Ian Curley. The British-born now Australian-based chef has been at the helm of some of Melbourne's most iconic restaurants. Curley shared his experiences of working in a high-pressure environment with its similarities to high performance sport.
Kelly commended the athletes for being really engaged in the seminars and committing to the online learning. He is looking forward to seeing his cyclists "back out there" and to see their adaptations and improvements.
"We haven't wasted any time," Kelly adamantly said when reflecting on the last couple of months.
Video: #VISInsider take a closer look at what some of our VIS athletes get up to in the Velodrome.

Behind the VIS Cycling Program
Shane Kelly OAM and Glenn O'Shea was appointed in 2018 following a restructure and refocus of the VIS Cycling Program, around the Track and Paralympic disciplines, along with taking a stronger role in the development of Cycling Victoria's underpinning programs, athletes and coaches.
Both Kelly and O'Shea are products of the highly regarded VIS Cycling Program, which has a proud history of producing world class cyclists including Cadel Evans, Simon Gerrans, Simon Clarke, Katie Mactier and Shane Perkins.
Kelly spent two decades mastering the sport of track cycling; competing at five Olympic Games, three Commonwealth Games and 14 World Championships and holding a top three world ranking for an incredible 14 years in succession.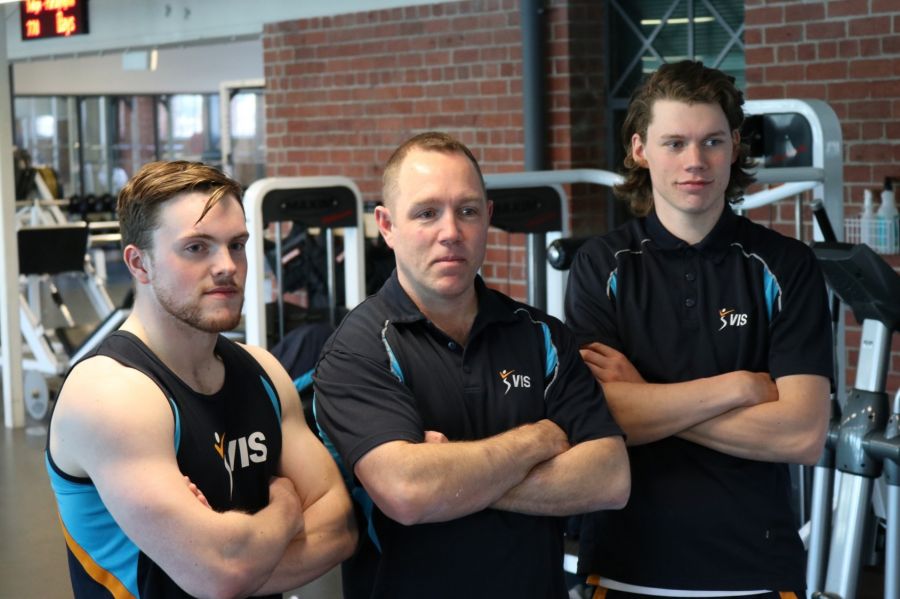 Image: Shane Kelly appointed VIS head track sprint coach in 2018

His greatest achievement was at the 1995 World Championships where he won gold in the 1km Time Trial and in doing so smashed the World Record, earning the nickname 'Minuteman'.
Dual Olympian O'Shea is no stranger to success either becoming the omnium World Champion in 2012 and winning a silver medal in the Team Pursuit at the London Olympic Games in the same year.
In April, O'Shea was appointed head coach of the national women's track endurance program. The VIS congratulates O'Shea on his new role with Cycling Australia and wishes him all the best in this exciting new chapter of his career.