Naess (nee Doughty) was born without a right hand, and at the age of 8, was already making her mark receiving awards for violin and equestrian achievements. She represented Australia at several international Para-equestrian events, including the World Equestrian Games, before making a dramatic change to Para-triathlon in 2014.

Her Para-triathlon ambition was born from personal loss, with the tragic death of her Mother spurring her to make a fresh start in a new sport.
She swapped her boots and horse for lycra and a bike, and the results of this transition were rapid and impressive, securing wins at the Australian Championships and the ITU World Para triathlon event in Yokohama, Japan - her first overseas race – and the bronze medal at the World Championships in Chicago, USA.
Then in 2016, Naess (nee Doughty) realised her dream of becoming a Paralympian when she represented Australia at the Rio Paralympic Games in the first triathlon in Paralympic history.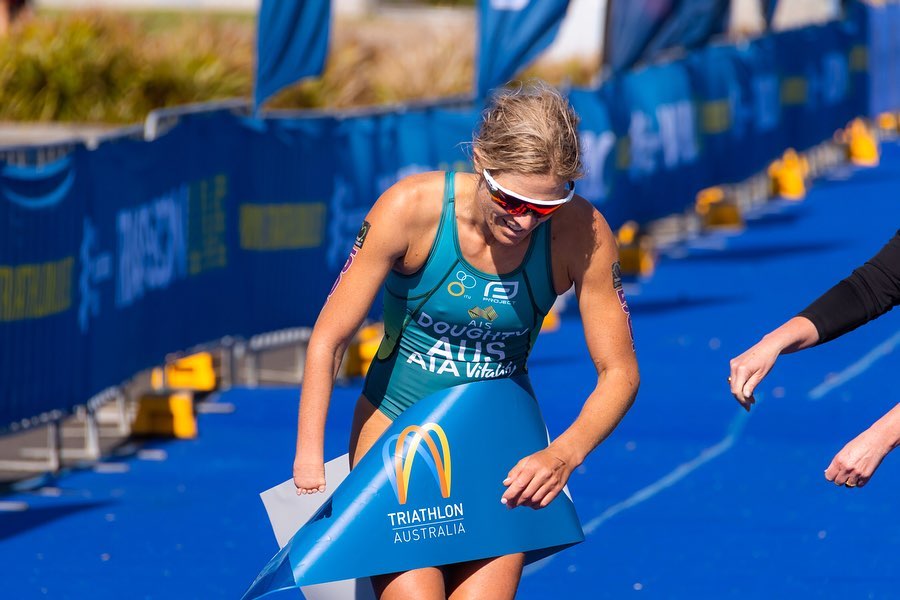 Kate Naess (nee Doughty) crosses the line after a hard fought victory, Image: Triathlon Australia
She was coming third until the final leg of the women's inaugural PT4 Para triathlon on Rio's Copacabana beach, but couldn't hold on, eventually finishing in fifth - an achievement nearly 20 years in the making, in an entirely different sport to what Doughty had first envisaged.
Naess (nee Doughty) said she had a "ripper swim" but couldn't find her legs until the second lap of the bike phase, before losing ground in the run which is her weakest link.
"Trust me, I had nothing left in the tank," she said, "I've been in the sport less than two years and I'm still not at my full potential. Bring on Tokyo," she said after the race.
She said she wasn't alone on the Fort Copacabana course in Rio, and there was someone with her every step, stroke and pedal – her Mum.
The 35-year-old, who has a tattoo of a dragonfly on her wrist in memory of her Mum said, "I just knew she would be with me the whole time coming into this race. I was emotional before I started so I'm lucky I didn't just melt in the race," Doughty said as tears flowed.
Fast forward two years to 2018, she married the love of her life, Norwegian Jarle Naess, before giving birth to baby son Henrik. She took a break from training and competition to enjoy a "baby gap year" to appreciate and learn all the new challenges in life as a Mum.
"I am loving motherhood, such a joy, and I am so glad to be able to now put the title 'Mother' on my CV." But now with the support of her husband and family and with a second Paralympics firmly in her sights, Doughty is back again chasing her dreams under astute coach, Danielle Stefano.
Naess (nee Doughty) is based in Melbourne with Coach Stefano and her ELOTIK Pro Triathlon team mates where Henrik has now become the official team mascot being present at most training sessions. Her return to racing has been emphatic with a hat-trick of wins (just eight months after giving birth!) at the Devonport World Cup event, the Oceania Para Triathlon Championships in Newcastle and the World Para Triathlon Series race in Milan, Italy.
"It's definitely been a different sort of lead up for Kate, now juggling motherhood on top of her training and work, however being the dedicated professional that she is, she's doing a magnificent job of multi-tasking," said Stefano.
Super-mum Naess (nee Doughty) is showing that anything is possible and will enjoy the continual build back to peak performance with her goal of getting to the start line in Tokyo.